Terry Bywater column: We are still in preparation mode
By Terry Bywater
Three-time wheelchair basketball Paralympian
Last updated on .From the section Disability Sport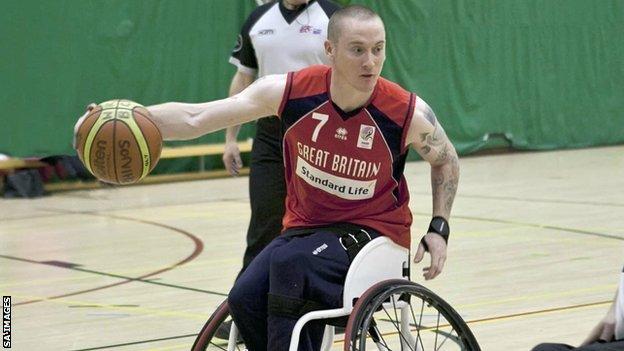 To be selected for the 2012 Paralympics is an amazing feeling. We've been waiting for the team selection for what seems like a long time and just to get that pressure off your shoulders is a huge relief.
It is good that the 12 guys know who is on the team now because it gives us a chance to build up our team spirit and atmosphere and become closer-knit as a unit.
While the players on both the men's and women's team who are going to London are obviously delighted, you have to feel for those who have missed out because to be in that position is heart-wrenching - I wouldn't like to be there myself.
But even though people will be very disappointed to miss out, it is very important for everyone to carry on doing what they are doing and working hard because they are still playing a very important role in helping us to improve in training and making us better as a team, so in terms of our preparations for London, they are helping us out big-time.
Plus, they are never more than an injury away from actually making it onto the team.
We've had a busy schedule of Games over the last few weeks both before and after the team announcement. We played the USA, Japan and Germany at the Paralympic World Cup in Manchester, where we finished second to the USA, and then Canada and Spain in Worcester earlier this week.
Not all of the results went our way - we lost twice to both the USA and Canada who are both very strong teams and will be challenging for medals in London.
It is always disappointing when you lose a match - no matter who you lose to. However, I don't think we need to look into it too much because the key thing for us is that as a team we are still in preparation mode.
We are being beaten by world-class teams, and it is not for the want of trying, but we are working on certain things and for us it is important for us to show character in our matches. One moment I think we are there as the finished article, the next I realise we still have work to do!
Maybe some sides are peaking at the wrong time because we definitely haven't peaked yet and we know we have plenty of time. We would rather lose games now rather than lose in London at Games time.
As a team we remember that three months before Beijing we went out to the United States and lost to them by 48 points, but when we got to China we beat them in the group stages and then beat them again to win the bronze medal.
When it comes to big tournaments, we won't get fully tuned up until a few weeks before a tournament. It always works out well because we have always been the best prepared we can be and played some great stuff, so I won't worry too much at the moment.
For Jon Pollock and myself I think we are slowly coming good after the injuries we both had last year. We are maybe at 70 or 80% fitness at the moment but we still have well over two months to go before the Paralympics starts so we are really focusing on improving our fitness levels over the next few weeks.
Next up we are back on the road. We go to France where we play France and Canada again in another tournament and then we will be going to Australia next month to face the Paralympic and world champions, so that will be a good test for us.
It is hard to be away from home and my family, especially my son Benjamin, but it is important to have the 12 of us together as much as possible. The best way to prepare for a big tournament like the Paralympics is by playing games and we have the opportunity to compete against world-class teams which is a fantastic opportunity.
We love what we do, we love the sport and we will give everything possible until London.