Dave Roberts wins appeal against Paralympic exclusion
Last updated on .From the section Disability Sport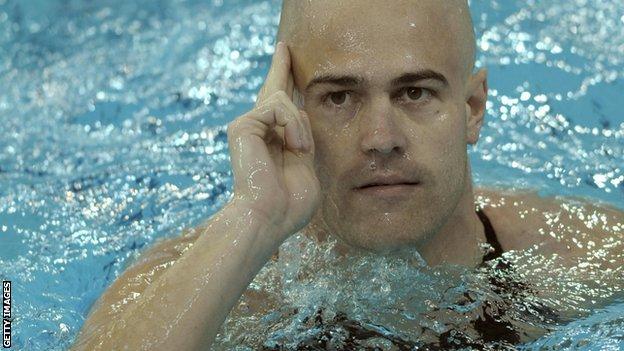 Eleven-time Paralympic gold medallist David Roberts' hopes of a place at London 2012 are still alive after he won an appeal against his exclusion from the GB swimming team.
It meant he was not selected on the GB team for the London Games.
British Swimming will now have to reconsider their decision to omit him.
Roberts, who won four golds in Beijing and needs one gold to overtake Baroness Tanni Grey-Thompson's medal tally and become the most successful British Paralympian of the modern era, has struggled with illness and injury over the past three years, including a bout of pneumonia earlier this year.
"Words just can't describe how I feel right now," he said.
"As a professional athlete I eat, sleep and breathe the Paralympics and it's a fantastic feeling to know that, after months of waiting and hoping, I could still be part of such a strong team in such an amazing event.
"It was my dream to compete in the Paralympics in Britain but when I heard I didn't make the team my dream was totally shattered. Now I feel vindicated in taking the appeal process this far - it's incredible to come away with a decision in my favour after such a difficult last few months.
"At times it was hard to keep going, continuing to train when I didn't have a clear goal to train for, but I'm so very thankful to my family, friends, my agents and my solicitors who have been beside me, supporting me and helping me fight.
"I hope I will now have the opportunity to compete in these Games to repay them for the faith that they have shown in me."
In a statement on Thursday night, British Swimming said they had received an "early indication of the appeal panel's findings" but were waiting to receive the full, written decision before starting to reconsider his selection.