Gabi Down dreams of wheelchair fencing success at Paralympics
By Elizabeth Hudson
BBC Paralympic sport reporter
Last updated on .From the section Disability Sport
To her Year Nine classmates at Oakgrove School in Milton Keynes, Gabi Down is just another typical 14-year-old.
She dislikes maths and likes PE, The Only Way Is Essex, her cat Wallace and hamster Eric and her friends describe her as "funny", "confident", "honest" and "a great friend".
But swap the school books for a sword and a mask and she becomes a top wheelchair fencer who will be making her Paralympic debut in London later this year.
Down, who trains at Touche Fencing Club in nearby Towcester, will be one of the youngest members of the ParalympicsGB team and will be taking part in the women's team epee event alongside team-mates Gemma Collis and Justine Moore on Friday, 7 September at the ExCel centre while the rest of the school are enjoying the first days of the new term.
But despite her tender years, Down, who started wheelchair fencing after being talent-spotted at a sports camp aged 11, is looking forward to taking on her rivals.
"I know I will be the youngest fencer there and now I don't feel intimidated by my older rivals," she told BBC Sport. "I've been competing for just over a year now and I see the same people at every competition.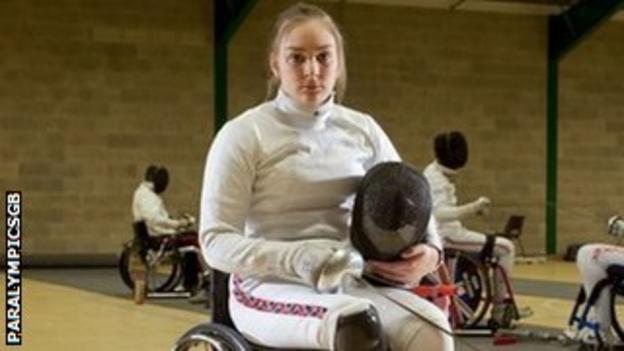 "At my first couple of events I was a bit intimidated and I thought my rivals were all going to destroy me but now I've got far more used to it and I feel really comfortable going to competitions. There are some really tough opponents but some I have a good chance against so I will just go and try my best.
"The more experienced guys on the team like David Heaton, who will be going to his fifth Games, are a great help and support to us all and tell us what to expect from different opponents and different competitions."
Down has a condition called skeletal dysplasia which means that her bones are not properly formed. She was born with two toes on her right leg and had it amputated when she was three.
However, sport has always played an important role in her life and she now has the chance to show off her talents on the world stage.
The teenager has also played wheelchair basketball and taken part in athletics and gymnastics but they have taken a back seat for the moment to allow her to concentrate on wheelchair fencing.
While a medal is probably beyond Down with the GB epee team ranked ninth in the world, she wants to enjoy the whole Games experience.
"Since I've been selected I've been training about five days a week," she said. "I was over the moon to be selected and it is such a big thing to compete in a home Games for my first Games and I feel really privileged.
"I'm just looking forward to everything at the Games and staying at the Olympic Lodge. It will be absolutely amazing to have a home crowd cheering you on, no matter what.
"I'm hoping to go and see some wheelchair basketball at the Paralympics and I've also got Olympic tickets for some athletics heats and the women's football."
But she admits that trying to juggle school work and training can be challenging.
"I have fallen behind at school because of different tournaments and training weekends but the teachers have been really great and to help me to catch up they give me work to do," she said.
"It is really hard when my friends are going out and I can't go as well but I've given it up for a really good cause. This is a once-in-a-lifetime opportunity and friends will still be there afterwards so it makes it all worthwhile.
"I never thought I would be able to get any of my friends to come and watch me compete as not many have seen me fence before so it will be great for them to come along and support me in London."
And her form teacher Sam Watson, who will be among a group from Oakgrove School travelling to support Down when she competes at the Games, hopes her pupil will enjoy the experience.
"The school is really proud of Gabi, not only as a student but for her sporting excellence and the success she has had," she said.
"It has been a tough balancing act for her but we can't wait to support her and hopefully she will do well and enjoy the event. The fact that she can share this amazing opportunity with her friends and the rest of the school is fantastic."