GB sitting volleyball teams named for 2012 Paralympics
Last updated on .From the section Disability Sport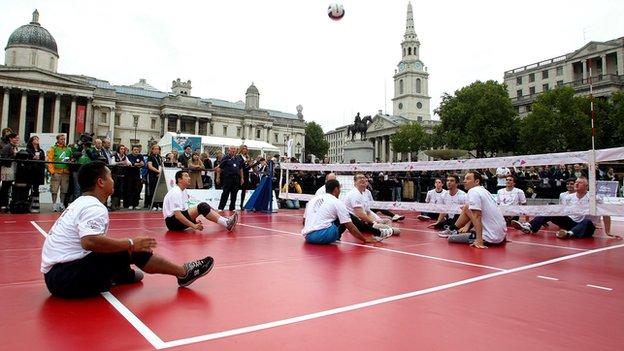 The Great Britain men's and women sitting volleyball teams for the 2012 Paralympics have been named.
Among the men's squad is former non-disabled indoor and beach volleyball international Richard Dobell.
Both teams earned host-nation places, with the men confirmed in September 2011 and the women in March 2012.
Dobell previously captained the England indoor team from 1987 to 2002 and competed on the international beach volleyball tour.
After injuring his knee he switched to sitting volleyball and it is believed he will be the first-ever player to compete at the highest international standard in all three volleyball disciplines.
Among his team-mates for London is Netra Rana, a Gurkha who was injured on patrol in Afghanistan and who has come through the Ministry of Defence's Battle Back programme, and Charlie Walker, a former bomb disposal officer who lost his legs after contracting meningitis.
Wiltshire, who was badly injured when the Circle Line train she was on at Aldgate was bombed, said: "It is amazing to be selected into the sitting volleyball squad to represent ParalympicsGB this summer. It's the biggest sporting event on earth, and it's coming to the city where I was born.
"I have dreamt of being part of it and now I am going there to do my country proud. This has been a long journey but it does not stop here, as we now enter our final training phase. I would like to thank my family and friends for all their love and support they have given me in my quest to become a Paralympian. They are all amazing."
Prior to London 2012, only standing volleyball teams have competed for ParalympicsGB.
"This is a great milestone in the sport, as we build towards our first Paralympics", said the sport's performance manager Dan Griffin.
"When Volleyball England took control of the British Sitting Volleyball programme in 2009, there were just a few male players training. Three years on we have men's and women's squads with players training daily with a full-time coach.
"London being awarded the 2012 Paralympic Games has played a major part in sitting volleyball's evolution and development. London 2012 will give the whole sport the momentum to take into the Rio 2016 cycle and beyond."
GB SQUADS
Women: Amy Brierly, Andrea Green, Claire Harvey, Emma Wiggs, Jessica Frezza, Jessica O'Brien, Julie Rogers, Martine Wiltshire, Jodi Hill, Sam Bowen, Vicky Widdup
Men: Anton Raimondo, Ben Hall, Charlie Walker, James Roberts, Justin Phillips, Muzzaffar Jabbar, Netra Rana, Richard Dobell, Rob Richardson, Sam Scott.