GB athletics pair confident over 2012 Paralympic plans
By Tony Garrett
BBC Sport in Holland
Last updated on .From the section Disability Sport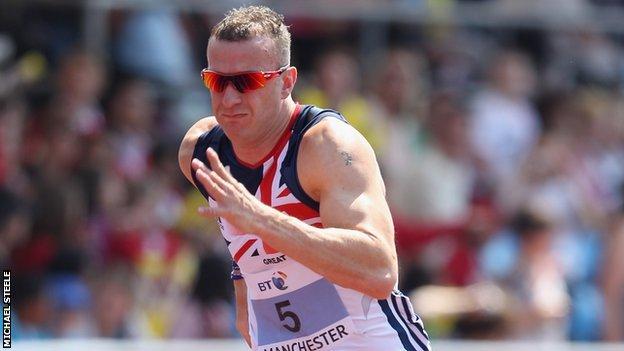 Athletes Libby Clegg and Richard Whitehead believe their 2012 Paralympic plans are on track after success at the IPC European Championships in Holland.
The team won 28 medals, including seven golds, in the last big international event before the London Games.
Clegg, who is visually impaired, had a 100/200m double while Whitehead won his 200m in a new world record.
"The winter has been tough for me but it has come to fruition on the track," he told BBC Sport.
It was a second world record of the year for Whitehead, a double above-the-knee amputee, who only started working on his sprinting after his specialist marathon event was excluded from the Paralympic programme.
At the test event at the Olympic Stadium in May he set a new world mark of 25.50 seconds but beat that with 24.93 in Holland and he is hoping to add Paralympic gold to the world title he won last year.
"This event was looking at where I am on the cycle. The London test event was the start, this is the middle and 1 September, when my final takes place, will be the end," he added.
"For me, it's about competing against myself and pushing the boundaries for myself, my family and Paralympic sport."
Whitehead's training partner Clegg set two personal bests in Germany last week and carried that form into Holland where she added the European 100m title to the world title she won in New Zealand last year and clocked her quickest-ever 200m - albeit with an illegal +2.2m/s wind.
"The conditions weren't great here but everything I've been working on with Keith [coach Keith Antoine] is going really well and Germany proved that," she said.
"We executed the 200m from gun to tape and came off the bend in the lead which was important. It has given me a lot of confidence in my 200m. There are a few new Chinese girls in the class who I've not had the chance to race yet, but I now know I can take them on with confidence."
Among the other highlights were a sprint double for Tracey Hinton, who will be hoping to compete in her sixth Games in London, medals for teenagers Sally Brown and newcomer Olivia Breen and a discus gold for Fijian-born soldier Derek Derenalagi who had both his legs amputated after being injured while serving in Afghanistan.
Head coach Peter Eriksson admitted that the event had come at a good time for his charges with the squad for London due to be selected on 9 July.
"It has been a good wake-up call for some of our athletes," he said. "The world is moving on and with the quality of the competition here if you snooze, you lose and we won't be taking anyone to London who isn't performing
"It has been a great competition with lots of strong teams including Russia and Ukraine, but we have done reasonably well.
"There have been some good performances by newcomers like Olivia Breen while experienced athletes like Tracey Hinton, Libby Clegg and Stephen Miller have stepped up and performed well."