Paralympics: Knott brothers named in GB goalball squad
Last updated on .From the section Disability Sport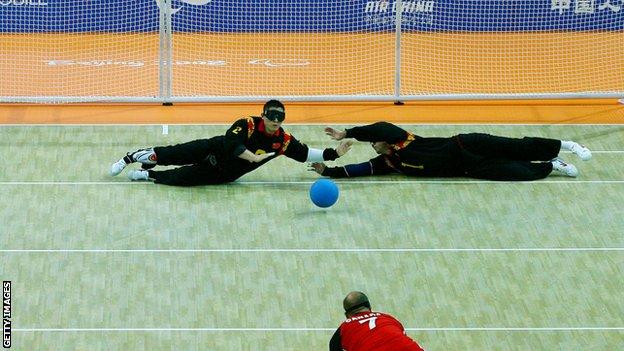 The British Paralympic Association has named a six-man squad for the London 2012 goalball competition.
Brothers Adam and David Knott, Michael Sharkey, former under-18 basketball all-star Niall Graham, Joe Dodson and Simon Goodall are all included.
The sport features athletes with visual impairments who try to score by throwing the ball, with a heavy bell inside, towards goal.
Opponents attempt to block shots on goal by using their bodies.
Adam Knott said he was emotional at the thought of competing at the Paralympic Games.
"To hear my name in the squad was incredible and the Paralympics will be awesome," he said.
"We played in front of 1,000 people and that was fantastic, but it is off the scale to think we will be playing for GB in front of 7,000 fans. It will be amazing and emotional. I can't wait."
Goalball, one of only three sports at the Paralympic Games which has no Olympic equivalent, was devised in 1946 to help rehabilitate Second World War veterans who were left blind or visually impaired.
It made its international debut as a demonstration sport at the 1976 Summer Paralympics in Montreal and was added to the full schedule from 1980.