US goalball star Jen Armbruster aims to end on high
By Elizabeth Hudson
BBC Paralympic sport reporter
Last updated on .From the section Disability Sport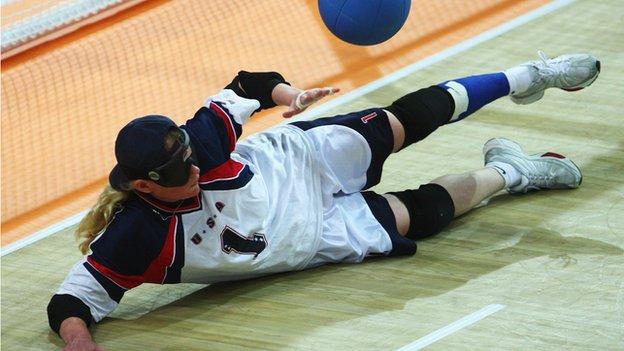 United States goalball star Jen Armbruster hopes a problematic right shoulder will not stop her finishing her long and illustrious Paralympic career on a high in London.
The 36-year-old, who will be competing in her sixth Games, was a sports-mad teenager when she started to lose her sight, ending her dream of becoming a professional basketball player.
But she became an accidental convert to goalball and has gone on to become one of the leading names in the sport.
"My blindness came in two stages - when I was 14 I went partially blind where I lost my central vision but had some peripheral vision in my left eye, so I was fortunate enough to come to goalball at the same time when I was still playing competitive basketball in school," she told BBC Sport.
"A local newspaper wrote a piece about me being legally blind and playing basketball and someone read the article and tracked me down and asked if I would like to come along and try goalball.
"It was a team sport with a ball so I thought I would give it a try. Essentially I got recruited purely because I had a visual impairment and was already an athlete.
"Sport was always been a big part of my life, keeping me out of trouble, and goalball created an outlet and helped me know I could still be competitive in a sport."
Starting to play the sport when she still had some vision, having also played a number of sports while she was growing up, was a big advantage as Armbruster learned the game.
"I was a soccer goalkeeper as a kid so the side-to-side and diving movements of goalball and hitting the floor never fazed me much and I was also a softball pitcher so throwing the ball was something that came naturally," she said.
"Because I got to watch goalball before I went totally blind [two days before travelling to the Barcelona Paralympics] I can visualise a lot so even now when I set up shots I still use a lot of my visual memory."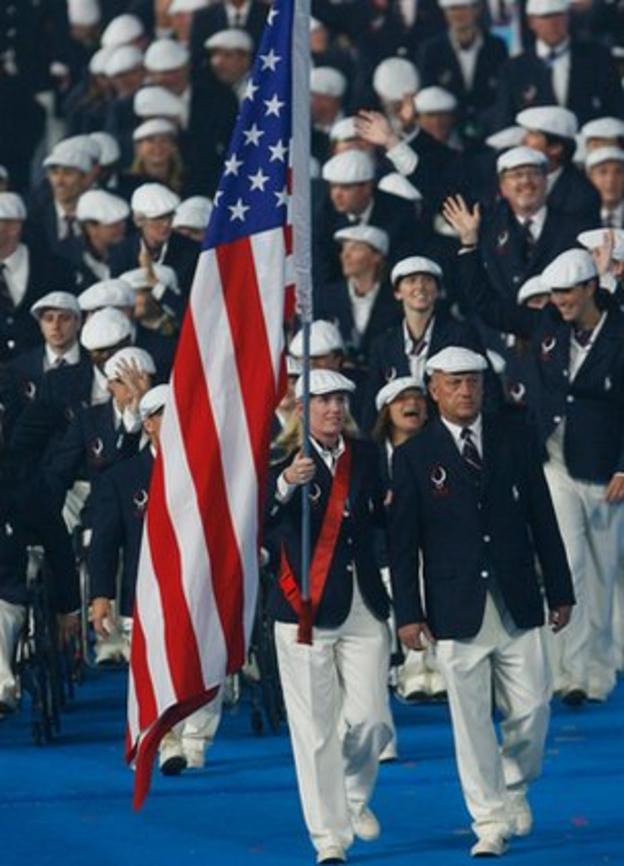 Since making her debut Armbruster has won a host of honours including World Championship gold in 2002 and Paralympic gold in 2008 in Beijing on the team coached by her father Ken.
Beijing was a particular highlight as she carried the USA team's flag at the opening ceremony before leading her side to glory on the court.
"I come from a military family and before I lost my sight I had two dreams - one was to play basketball for coach Pat Summitt at the University of Tennessee and the other was to be in the military," she said.
"So when I lost my sight and serving my country wasn't an option the fact that I could put on the red, white and blue and Stars and Stripes uniform was huge, and to carry the flag and have my dad there as the coach was huge."
Armbruster again leads an experienced team in London alongside three of the outfit who won gold four years ago, plus two newcomers.
However, having had shoulder problems that have resulted in two serious operations in the past few years, she admits she is just excited to be competing at the Copper Box in the Olympic Park.
"I didn't say it before Beijing but in my mind I'm pretty confident this will probably be my last Games because I don't think my body can go through another surgery and come out as well as I have in the last two," she said.
"There is always pressure on the US team and we know we are the team that others want to beat. It means a lot for us to defend our title so we will go out there and do our thing and hopefully I won't feel like anything has been left unfinished."