Rachel Morris says injury has shattered her medal hopes
Last updated on .From the section Disability Sport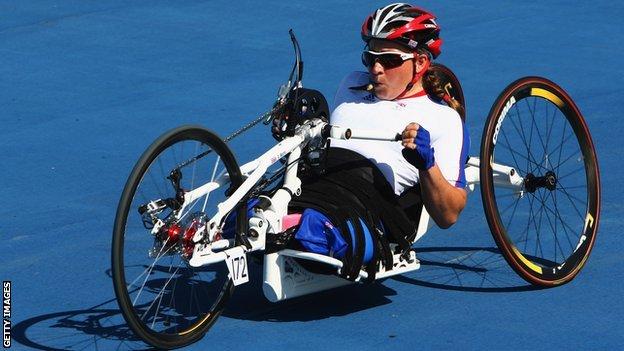 Hand-cyclist Rachel Morris says her hopes of winning a medal at the Paralympics have faded significantly after being injured in an accident.
The 33-year-old from Guildford was hit by a car and dislocated her shoulder in training last week.
She told BBC Surrey: "It will take away some of the power in my arms and stop me from doing weights.
"I think it will have a massive impact on me coming away with a podium finish again. It has shattered my dreams."
Morris, who won gold in the time trial event in Beijing four years ago, has reflex sympathetic dystrophy which has a serious impact on her ability to recover from injuries.
The condition causes extreme pain and related sensory abnormalities and when Morris suffers an injury her body reacts in a damaging way, compromising her recovery.
Morris is scheduled to defend her Paralympic title at Brands Hatch on 5 September and is also hoping to compete in the road race at the same venue two days later.
"I am very worried about how much it has knocked back where I will be at that time compared to where I should have been had everything gone to plan," she added.
"It will cause problems for the next six to eight weeks.
"I won't write it [a podium finish] off completely as there are loads of variables which can change.
"Competing in a home Games is beyond most athletes' wildest dreams. I hope nothing else goes wrong from now."
Along with her physical injuries, Morris also needs another hand-cycle as her training bike and its wheels were written off in the accident.
She has been forced to use her competition bike in training and order a new bike from the USA for the Paralympics.
"People have been amazing and it's shown me how much people care," she added.
"I've got eight weeks of training on my race bike, which means it will not be race-worthy by the time I get to London.
"I've put in a new order from a company in America but they normally take 12 weeks.
"They've promised they will be able to get a bike over [before the Games] but they're not cheap."