Paralympics 2012: Sporting rivalries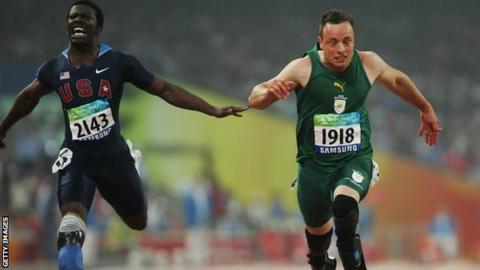 When it comes to sporting rivalries, the Paralympics has plenty to whet the appetite.
Whether it is a duel between team-mates from the same country, the clash between different nations or even sibling rivalry, there is no shortage at the Games, which run from 29 August to 9 September.
BBC Sport looks at some of the encounters which could light up London in the coming weeks.
Jody Cundy v Jon-Allan Butterworth
Sport: Cycling
Event: C4/5 Kilo
Date: Friday 31 August
Britain's Para-cyclists swept the boards in the velodrome in Beijing four years ago with 17 golds.
But the UCI's tinkering with the Paralympic programme means that two of Britain's leading riders will be going head-to-head for gold in the kilo in what should be a top class and thrilling encounter.
Cundy won gold in the kilo in his category in Beijing and both men won gold in their respective categories at both the 2011 and 2012 World Track Championships
The gold medallist in London will be the one who gets closest to the existing world record for their category and it would be no surprise if both men beat their own record time.
Oliver Hynd v Sam Hynd
Sport: Swimming
Event: S8 400m freestyle
Date: Friday 31 August
It is tough enough being a defending Paralympic champion, but for Britain's 21-year-old Sam Hynd his biggest rival for gold is someone he knows very well - his 17-year-old younger brother Ollie.
Sam enjoyed a successful Games debut in Beijing, winning gold in the 400m freestyle and bronze in the 200m individual medley but Ollie has emerged as one of his biggest rivals for gold in London.
At last year's European Championships in Berlin, Sam won gold in the freestyle with Ollie in second while Ollie gained revenge in the medley with Sam winning bronze.
Ollie has the fastest time in the world this year coming into the freestyle but his brother is not far behind and the pair are set for another tremendous tussle for Paralympic gold.
Dave Weir v Kurt Fearnley v Marcel Hug
Sport: Athletics
Event: T54 1500m
Date: Tuesday 4 September
The T54 1500m is traditionally known as the blue riband race in Paralympic terms with the world's best wheelchair racers vying for honours.
Weir, Britain's top wheelchair racer, won gold in an action-packed race four years ago and will be keen not to let his rivals take his title from him.
But he will face a tough challenge from Australian Fearnley and Switzerland's Hug who have been his long-time rivals and both beat him over the distance in a fast race in Switzerland in May.
Weir won his first race over the distance at the Olympic Stadium in May and although he failed to break the world record held by Hug, a gold medal in September would do nicely.
Natalie du Toit v Louise Watkin
Event: S9 50m freestyle
Date: Wednesday 5 September
South African Du Toit has been the leading figure in her S9 category for the past decade, winning 10 gold medals at the last two Paralympic Games and she has always said that London will be her swansong.
While the South African is particularly strong in the distance events, thanks to her open water training, it has meant she has focused on endurance and the speed events have suffered.
Watkin, who at 20 is eight years younger than Du Toit, won bronze behind the South African in Beijing but at the 2010 World Championships, the Briton showed her strength, winning in a time of 29­.26 seconds, 0.39 secs ahead of the South African.
Oscar Pistorius v Jerome Singleton v Jonny Peacock
Sport: Athletics
Event: T43/44 100m
Date: Thursday 6 September
Prior to the 2011 World Championships in New Zealand all the talk was how South African double amputee Oscar Pistorius would easily win three gold medals at the London Games.
But American Jerome Singleton had something to say about that, beating Pistorius into second in a photo-finish in the 100m final to cast doubt over Pistorious' perceived invincibility.
However, this year British teenager Jonny Peacock has shown Pistorius and Singleton that it is not going to be a two-horse race, beating Singleton into second at the US Paralympic trials and beating Pistorius's world record in the process.
With American Blake Leeper and South African Arnu Fourie also in the medal mix, this could be one of the best races of the track programme.
Dan Greaves v Jeremy Campbell
Sport: Athletics
Event: F44 discus
Date: Thursday 6 September
By his own admission, British discus thrower Greaves had a disappoining Beijing. He went to China as defending champion but only came away with bronze as his American rival claimed victory.
Since then, Greaves gained revenge in the 2011 World Championships in New Zealand, winning gold as Campbell took silver and he set a world best.
But in Paralympic year, Campbell has had the better fortunes becoming the first man in their F44 category to break 60m in competition, throwing a massive 63.46 in Oklahoma in June while Greaves has struggled to make an impact. But both will raise their game in their battle to win gold in front of a full house at the Olympic Stadium.
Ellie Simmonds v Victoria Arlen v Mirjam de Koning-Pepper
Sport: Swimming
Event: S6 100m freestyle
Date: Saturday 8 September
In Beijing in 2008, there were tears of joy, shock and surprise as 13-year-old Ellie Simmonds triumphed in the 100m in her S6 category in the Water Cube.
Now, four years later, Simmonds faces a battle to retain her Paralympic title in the event.
The Swansea-based star lost out to the 43-year-old De Koning-Pepper over the distance at last year's European Championships in Berlin but now the pair face a new challenge in the form of American 16-year-old Victoria Arlen, who set a new world record in the event in June.
Esther Vergeer & Marjolein Buis v Jiske Griffioen & Aniek van Koot
Sport: Tennis
Date: Saturday 8 September
Given the strength of the Dutch female wheelchair tennis team, it would be a massive surprise if the final was not an all-Dutch affair.
Led by the peerless Esther Vergeer, the four Dutch players selected for the Games occupy four of the world's top five spots in both singles and doubles.
Vergeer is a strong favourite to win her fourth women's singles title but the battle for the doubles crown could prove tough.
Vergeer paired up with Marjolein Buis earlier this year and the pair won their first two competitions together, beating Jiske Griffioen and Aniek van Koot in Florida and at Roland Garros.
But Griffioen and van Koot have won the next two meetings, in the semi-final at Wimbledon and in the British Open final and if the quartet meet again at Eton Manor in the final, you can expect fireworks.