Paralympics 2012: Rower Tom Aggar says gold not a certainty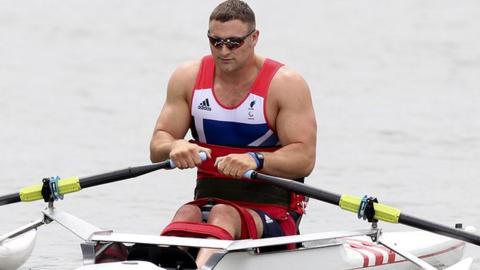 Tom Aggar might be a giant of world rowing with an unbeaten record, but he insists the competition is closing in fast enough to make gold at the London Paralympics far from certain.
Since making his international debut in 2007, the 28-year-old has never experienced defeat, dominating the men's single scull with four world titles and gold in Beijing, where rowing made its Paralympic debut.
Aggar began his sporting life as a rugby player and was part of the first XV at the University of Warwick, but he suffered a serious spinal injury in a fall in 2005 and took up rowing to keep fit.
He quickly realised he had a talent for the sport. His strength and power make him a formidable opponent and, although he is favourite to retain his Paralympic title at Eton Dorney, he is not complacent.
"Even though I have won the World Championships every year since Beijing, the margins have been tighter and I think everyone is stepping up their game for this year, so I'm under no illusion. It will be much tougher to win gold this time around," he told BBC Sport.
"More than any other year everyone steps it up for Paralympic year. People are coming in from new nations and other sports, so the field has more depth to it, which will be interesting. It will be a bit more nail-biting for spectators but great for the sport that people are really pushing each other.
"I'm always confident going into competition. I prepare well and train hard and being on home water and having the crowd behind us will help spur me on and give me a lot of confidence. I can't wait to compete."
Aggar will be part of an eight-strong GB team in the rowing events, with the mixed coxed four going in as world champions, while the mixed double scull of Samantha Scowen and Nick Beighton, who lost his legs in an explosion while serving in Afghanistan, will be making their Paralympic debut.
Aggar was himself a novice in Paralympic terms when he made his debut in Beijing but now, after four years of hard work with coach Tom Dyson and last year's marriage to former rower Vicki Hansford, he has grown as an athlete and a person.
"The Beijing Games was a real eye-opener for me and I guess going into London I will know more about what to expect but I can't wait to get into the village and start competing," he said. "It has been a long four years and a lot of hard work since 2008.
"I've probably learned a few lessons since Beijing. Before, I was always a bit gung-ho and threw myself into training. I'm a bit smarter about what I do now and how I manage myself. I've definitely learned to be more self-aware about how I am feeling and what my body is doing.
"I've probably got a bit smarter in competition dealing with different conditions and when to push hard and when not to. I've probably worked harder this year than any other year and I'm fitter and stronger than I have been in previous years."
Dyson's influence on Aggar is clear and the coach believes his athlete can cope with the pressure of being the favourite.
He said: "I'm not sure the unbeaten record is a burden - it could be if you looked at it the wrong way - but I would like Tom to see it as a confidence boost knowing he has won every other race, but I don't know how long the run will go on for.
"I hope Tom can win gold but wouldn't be as arrogant to say he definitely can. There are countries like Russia, China and Australia who will challenge and he will have to produce it on the day if he wants to win.
"The competition is stepping up a level but he is stepping up with that and he certainly isn't waiting for someone to catch him. Given how quickly the level is rising there is no way he can continue winning if he doesn't work and improve."
For Aggar, he has not come this far to let the prize of home glory slip away on Sunday 2 September.
"I think winning gold would mean more than in Beijing," he said. "There is a certain level of expectation from friends and family who expect you to do well and it will be tough, but I can't wait to hopefully be part of a successful GB team on home water."