Paralympics 2012: Mark Colbourne's remarkable journey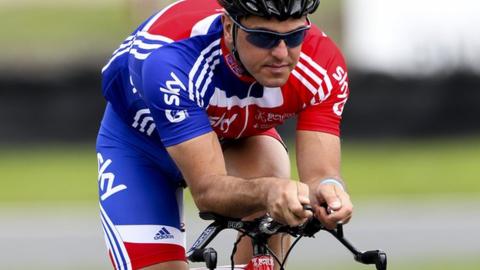 World champion Para-cyclist Mark Colbourne will have completed a remarkable transformation when he lines up on the track and the road at the Paralympics.
In 2009, the Welshman broke his back when forced into an emergency landing after his paragliding wing collapsed. Three years later, the former sales and management consultant prepares to test himself as an elite athlete at a home Games.
"At the age of 40 to have this life-changing experience, which was a terrible time for me, it really was, I felt I dealt with it very maturely," said Colbourne.
"To now come out of it at the other end, to prove that as a genuine sportsperson I can achieve at world level - being a Paralympic hopeful is just the next level for me."
After the accident, Colbourne began his rehabilitation with the use of walking aids and through Disability Sport Wales he had the opportunity to start cycling, "very, very slowly".
"For me it was a door that opened after overcoming adversity and having the opportunity to have a new life, albeit with this disability," he said.
"After 18 months of arduous training, Great Britain gave me the chance to race abroad.
"My first experience when I received the email was that I now have this opportunity, after months of training constantly, to prove to myself that I can achieve something with this disability that I've been left with."
Britain has proved as formidable in Para-cycling as non-disabled cycling in recent years, topping the medals table at the Beijing Games with 17 gold medals and winning 17 medals - including eight golds - at this year's Track World Championships in Los Angeles.
Being thrown into such an environment could have been daunting for any cyclist, all the more so for someone still coming to terms with a devastating accident.
"I think the apprehension in the beginning, not knowing very much at all about Para-cycling or the organisation of British Cycling, was to always go into any opportunity very tentatively, very cautiously but definitely very positively," said Colbourne.
"I think in the beginning you're trying to learn how the organisation works and learning how to be a professional athlete. I'd been a professional person all my working life and now having to replicate that in a professional environment in sport was very similar actually, but instead of performing in terms of sales targets it's now a case of performing physically.
"The first year was definitely quite difficult for me because naturally my body was still mending, and then the fitness side of it started - losing two stone and becoming stronger on the bike, lighter and faster. Then it was a case of letting the addiction take over to enjoy the training on a daily basis."
After winning his first World Cup medals and a time trial C1 silver at the World Championships in 2011, Colbourne went one better in Los Angeles this year as he won his first world title in the 3km Pursuit C1.
His sights are set even higher for London, where he will compete in four events - two on the track and two on the road.
"I have the opportunity to train six days a week under the umbrella of possibly the best cycling organisation in the world, with the best physiotherapists, the best coaches, the best bio-mechanics, who tap into the best facilities available on the planet," he said.
"For me, as a C1 category rider with lower leg paralysis, I still have this opportunity to become a Paralympian. After winning the World Championship I've had the taste of it.
"How good could I be racing on home soil in front of my home crowd? That thought raises the hairs on the back of my neck.
"I really hope the legacy I leave after the London Games will have a positive impact for disabled people in this country and maybe across the globe, to get people back into sport at whatever level they can.
"You can have a life after a serious accident. My accident was near-fatal, I'm so lucky to be here. I didn't want to turn down this chance at what will be a dream come true. I want to hopefully come away with gold medals."