Terry Bywater column: We are at the stage where this is the last push for London
By Terry Bywater
Three-time wheelchair basketball Paralympian
Last updated on .From the section Disability Sport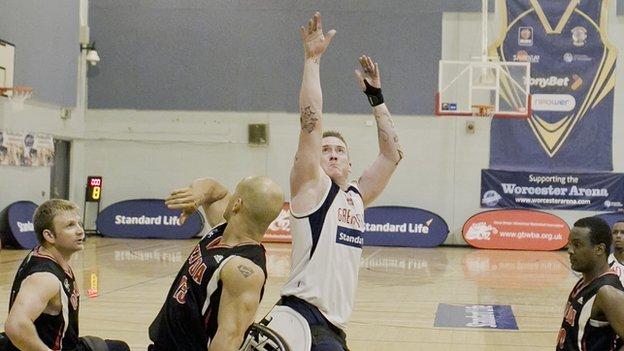 Yet again it has been a busy time for the GB men's team and with the start of the Paralympics less than a month away and the Olympics already underway, things are getting very close.
Now that the Olympics have started, it means the start of the Paralympics for me. Watching the opening ceremony brings it all home how close it all is and it gives you an insight of what you can expect.
We travelled down under recently and played some games against Australia who are the world and Paralympic champions and probably the best team in the world right now, and Japan.
To go there and get some quality games was important and we only lost to the Rollers, as they are known, by five points in the final and I think it showed everyone we are capable of challenging against the best teams in the world.
We know that what matters is what we do in London, but I'm confident we can take a game off the Aussies at the Games - I definitely think they are more scared of us than we are of them!
It means we have now faced all of our main rivals for medals in London - as well as travelling to Australia, we played Canada in Worcester and the USA at the Paralympic World Cup in Manchester and we are slowly but surely coming good for London.
For the last few weeks it has been tough on our families. We are at the stage where it is the last push and you have to do everything to get ready, and the coaching staff want the team together as much as possible. My family are used to it now and when you have good family backing and they understand what you are doing and can see the bigger picture, it makes it a lot easier.
My family and my wife Jody's family know what it means - both to me and to them - and they are a big part of what I do. For all athletes, family support is crucial and they want you to succeed as much as you do and when you go out in London, you are doing it for them as well and you want to make them proud.
That is almost the end of the travelling for us. We will go to Holland in August for a couple of games just to keep us ticking over, but then it will be straight into the Paralympic Village.
From doing so much travelling in my 13 or so years with the squad I am well used to packing and recently it has been like living out of a suitcase. You could say to me 'you are going to Australia tomorrow for six weeks' and I could pack in five minutes whether it is for a training camp or a family holiday. I don't understand how people pack for a holiday two weeks before they go.
The first thing that goes into my bag for a training camp is my training vest - if I have my training vest and passport I can't go wrong - you can always buy a toothbrush at the airport! If you forget a training vest on a training trip you will be in a lot of trouble with our head coach Murray Treseder.
We get our British kit this week and there is real excitement among the whole squad. I think we are one of the last sports to get our kit because we were in Australia when the rest of the GB squads had their send-off weekend in London.
We've seen lots of pictures on Twitter from other Paralympians who have already got their kit and are telling everyone about it. We've not seen any of it yet and it is all we have been talking about.
The kit we get for a Games is always fantastic. Some people swap parts of their kit at the end of the Games but I don't. I still have some bits of my kit from Sydney, as well as from Athens and Beijing, and personally I feel it is something you can't throw away because it means too much to you and it is something you have worked so hard to earn.