Paralympics: Team GB's Kenny Allen ready for archery challenge
Last updated on .From the section Disability Sport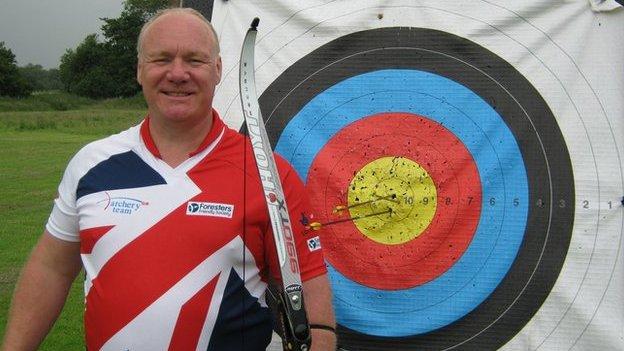 Norfolk archer Kenny Allen is relishing the prospect of competing in front of large crowds at the London Paralympics.
Allen, 42, is part of a 13-strong GB team looking to make up for the lack of home archery success at the Olympics.
"It's the biggest competition of my life so it's just something I'm going to have to get on with and do my best," he told BBC Radio Norfolk.
"I haven't encountered shooting in front of that many people but it's part and parcel of Paralympic archery."
Allen was glued to the television during the Olympic competition at Lord's, normally the home of cricket, and he expects similar conditions for his own event at the Royal Artillery Barracks in Woolwich, which will be his first Paralympics experience.
"I watched pretty much all of it, mainly just to get an idea of how the crowd were reacting to the archers," he added.
"They were very well-educated, they knew when to cheer and when not to cheer. You could really feel the vibe just by watching it on the TV.
"Royal Artillery Barracks is a nice venue, there's going to be grandstands like we saw at Lord's all the way round, so we're pretty protected from the wind - I hope."
Allen has been making a few "technical changes" prior to heading for next week's team holding camp in Bath, firing at a target only a few metres away.
"In archery, 99% of it, you've got to get it right on the shooting line," the 2010 European silver medallist added.
"If your technique isn't right, it's not going to go right 70 metres away.
"Working on this is just as important as working on distance.
"It's paying dividends at the moment and things are moving along nicely."
The Paralympics begins on 29 August with the archery competition, including Allen's individual standing recurve event. getting under way the following day.