Paralympics 2012: Hannah Russell 'shocked' to make London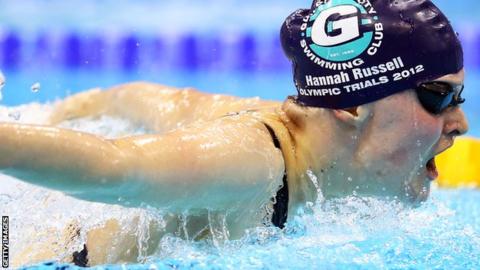 2012 Paralympics
Date:

Wednesday, 29 August to Sunday 9 September

Coverage:

Extensive daily coverage across 5 live, 5 live sports extra and the BBC Sport website
British swimmer Hannah Russell said she was stunned to learn she will be going to the Paralympics at the age of 16.
Russell, who is visually impaired, could win medals in five S12 category events - and make a similar impact to that of Ellie Simmonds in Beijing.
"My main aim was Rio 2016 - I'm shocked and amazed to be selected," she said.
"I'll try to achieve personal bests and enjoy the experience. My hope is to try to get into as many finals as possible - medals would be a bonus."
At the 2011 European Championships in Berlin, her first major international event, Russell won silver in the 100m backstroke and bronze in the 100m butterfly.
Earlier this year, she set a European record in the 100m backstroke in the British Paralympic trials at the Aquatics Centre in the Olympic Park.
Of her Paralympics events, the Surrey swimmer is currently fastest in the world in the 50m freestyle, 100m freestyle and 100m backstroke, and second fastest in 100m butterfly and 400m freestyle.
Four years ago, Simmonds, who has achondroplasia, a form of dwarfism, and competes in the S6 category, won two gold medals at the age of 13.
Like Simmonds, and many of the other Paralympians, Russell has had to balance her relentless training schedule with her education.
"I found it quite hard to balance school life and swimming, but both have been good about it," she continued.
"I train in the morning from six until eight before I go to school. I then train again after school [Gordon's School in Woking] from either six until eight or seven until nine.
"I recently went to a training camp in Majorca. It's been my GCSE year and I had to take three of my exams out there - my school were good about that."
Russell added: "I think I'm ready for the Paralympics. To be competing in front of a big crowd is going to be amazing."