Paralympics 2012: Jason Smyth aims to retain sprint titles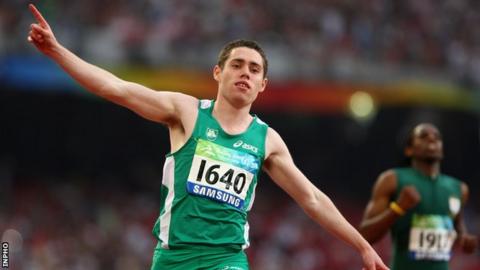 Irish sprinter Jason Smyth says he has recovered from the disappointment of missing out on the Olympics Games as he focuses on defending his two T13 Paralympic titles in London.
The visually-impaired athlete was just 0.04 of a second from earning a place in the 100m field at the recent Olympics as his personal best stubbornly remained the 10.22 set last year.
Training with a group of athletes in Florida over the last three winters, including Tyson Gay, has helped Smyth's sprinting to the extent he became the first Paralympian to compete at a European Championships in 2010.
Smyth, 25, went into the 2012 season convinced he could join fellow Paralympian Oscar Pistorius in qualifying for the Olympics but, despite some encouraging early races, it was not to be.
"I never felt I got everything right in a race. In a sprint you have no room for error. That was the difference between getting the A standard and not," says Ireland's top-ranked 100m runner for the past three years.
"But I didn't find it too hard to get my head back right after missing out on the Olympics.
"In my head was always the fact I had to go the Paralympics and retain my titles and perform well no matter what."
Smyth's unassuming nature could easily mask the fact he is one of Paralympic sport's major names and he has been receiving the top level of Irish Sports Council funding (£31,500) since 2006.
The Londonderry athlete's presence alongside athletes such as Dwain Chambers and Christophe Lemaitre at the European Championships in Barcelona two years ago was a major boost for the Paralympic movement.
Two years earlier, Smyth had been described by one commentator as the "Usain Bolt of Paralympic sprinting" after he streaked to two gold medals in front of 90,000 spectators at the Bird's Nest.
Having started his Paralympic career in 2005, Smyth had landed European and world titles but Beijing "was on a totally different level".
"All of a sudden, it's the complete opposite and you're competing with 90,000 people there," he said. "There's media attention before during and after. It was a fantastic atmosphere."
The Beijing adventure was a far cry from Smyth's own "misplaced perceptions" when the possibility of him competing in Paralympic sport had first been mooted in 2004.
Smyth had been diagnosed with Stargardt's condition as an eight-year-old but, despite a steady but gradual deterioration in his sight, had continued to live a normal teenage life to the extent that he had played for his school football team.
"When I got into athletics I just did the training and didn't tell people my business," he said. "My attitude was that people didn't really need to know that I couldn't see.
"But then my dad talked to my coach Stephen Maguire about Paralympic sport and, after looking it into, they asked me if I had any interest.
"I know it's probably wrong but initially my perception of Paralympic sport was people being badly disabled and as a teenager, I didn't really want to be associated with that."
However, the youngster came to the realisation that the Paralympic route offered him a potential avenue into becoming an elite athlete - although there were still problems to overcome.
"At times I was referred to being in the 'Special Olympics' by teachers at school and I just went 'what?'."
But immediate success in his first international competition as he clinched gold at the 2005 European Paralympics Championships helped clear the doubts and, as the medals continued to be accumulated, opening up about his disability became easier too.
"My grandad had it so it was a genetic thing, although he didn't get it until he was 60," he said.
"It wasn't like my eyesight went from being 100% all of a sudden. It gradually deteriorated and it was more that my parents noticed it."
The 25-year-old's vision now approximates to between five and 10 per cent of what would be judged normal.
"It affects me in everything I do," he said. "But it has become normal for me and not being able to see is all I really remember.
"I can't travel on my own because I can't see where I'm going.
"But probably the most annoying thing is interacting with people.
"Unless people are really close, I don't think I can look at them in the eye because it's my central vision that's most affected.
"The best part of my eye to see out of is my peripheral vision. So for me to look at someone, the pupils of my eye would be looking past them.
"Then you get people acknowledging me and I don't even see them and they might think that I'm awkward or ignorant."
Smyth's disability has meant that his coach Stephen Maguire has been at the athlete's side 24/7 during their frequent stints in Florida, but the Strabane man is to take up a full-time director of coaching job with Scottish Athletics after the Paralympics.
Smyth will need a new coach after the Games but the Derryman will not be left on his own as he marries his American girlfriend Elise in December.
"I will have a bit of a life and completely get away from athletics when I'm not training," he said.
"And while it wasn't arranged at all, if there was a right time for there to be a swap over with Stephen leaving and me getting married, it couldn't really have been much better timing."
But before Smyth's nuptials, there is the not-so-small matter of the Northern Irishman defending his two Paralympic titles.
Smyth is not someone who gets too caught up about the opposition, although gauging form before major events is always fraught with difficulty given that "new guys can just come out of nowhere".
"If I run in and around my PB (10.22) that would be great but the other side of it is that it's about winning big events."
As was the case in Beijing four years ago, Smyth will room with his friend and fellow Paralympic gold medallist Michael McKillop, who will also be aiming for two titles in London.
Post-London, Smyth plans to prepare for further tilts at able-bodied major championships over the next four years in the hope of qualifying for the 2016 Olympics in Rio.
"At one stage, I was wondering whether I wanted to keep going but I want to reach my potential and I haven't done that yet."