Paralympics 2012: Battle Back - from front line to podium
By Elizabeth Hudson
BBC Sport
Last updated on .From the section Disability Sport
One of the main developments in Paralympic sport across the world in recent years has been the number of injured service personnel becoming involved.
Many of those who have served in the British armed forces have had their first taste of Paralympic sport through Battle Back, a Ministry of Defence initiative supported by Help for Heroes and The Royal British Legion, which aims to help them return to an active life through adaptive sport and adventure training.
While some will become involved on a recreational basis, for others who have the potential to become elite athletes it can open up a whole new world of possibilities.
BBC Sport looks at some of the athletes who have swapped army uniforms for ParalympicsGB kit and will be chasing gold at London 2012.
Jon-Allan Butterworth
Sport: Cycling (track and road)
The 26-year-old lost his left arm in a rocket attack in Basra in 2007 while serving with the RAF as a weapons technician and has previously admitted that if it wasn't for cycling he would be "sitting at home watching daytime television and doing nothing with my days".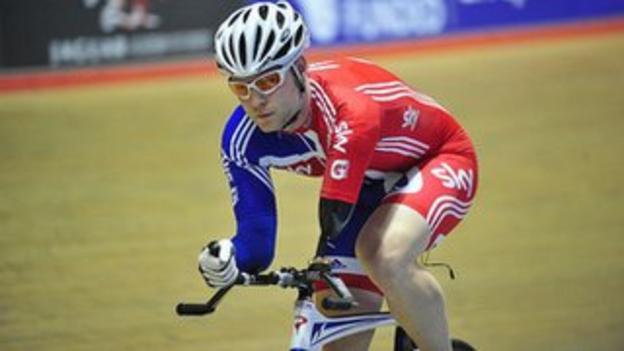 While recovering at Headley Court he attended a ParalympicsGB talent identification and development day in 2007 and was selected for the sport's talent programme in April 2009, before going on to train with the team in November of that year.
He won gold and broke the world record in the C5 1km time trial at his first World Championships in 2011 and repeated the feat earlier this year in Los Angeles. He is set to compete in five events in London - the kilo, 4km pursuit and team sprint on the track and the road race and time trial at Brands Hatch.
HE SAYS: "In my first year-and-a-half in the sport I felt I didn't make much progress, but I did - it was about getting fit and losing weight and learning to ride a bike.
"I know I have achieved a lot in a short space of time but I have put in the hours and worked really hard, so if you do that I suppose it isn't a surprise when you do well because it is a by-product of the training.
"I wouldn't be happy going to London if I didn't have a chance of winning. I'm not there just to race or make up the numbers. I want to win and I won't be happy if I don't win. If I do win gold I don't know how I will feel but I will be proud to hear the national anthem.
"Without Battle Back I wouldn't have even tried cycling and throughout my career they have been there to offer help and support and have played a major part in my progression in the sport."
Nick Beighton
Sport: Rowing (mixed double scull with Sam Scowen)
Beighton, who is a serving captain in the British Army with the Royal Engineers, lost both of his legs in Afghanistan in 2009 when he stood on an improvised explosive device. He came to rowing for the first time as part of his rehabilitation.
The 30-year old recently told BBC Sport that rowing probably chose him, rather than the other way around, because of his build and height (6ft 7in).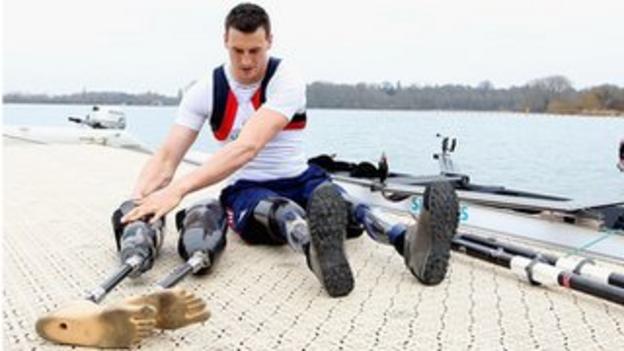 Beighton started rowing in July 2010 and was paired with Sam Scowen, who had been looking for a male partner for the double scull boat.
The pair only started rowing together 18 months ago and finished sixth at last year's World Championship in Slovenia, and they hope that upward trend continues on their home water of Eton Dorney.
HE SAYS: "Everyone approaches their recovery in a different manner but, for me, sport was vitally important to my rehabilitation.
"For a lot of guys, just because of the characters who are in the army, you need an outlet for the energy which you would have naturally thrown into your everyday work or operations.
"To reaffirm that you still have the ability to go and achieve things at the higher level is critical. It is almost about finding myself again and knowing I can achieve things if I put my mind to it.
"I'm a very proud soldier. I was proud to serve and this is another way to represent my country, especially coming off the back of something so life changing as being injured. You need to find a new direction and rowing has given me that and the chance to do something amazing with my life."
Derek Derenalagi
Sport: Athletics (F57/58 discus)
The fact that the Fiji-born ex-soldier is alive, let alone a Paralympic medal contender, is a miracle in itself.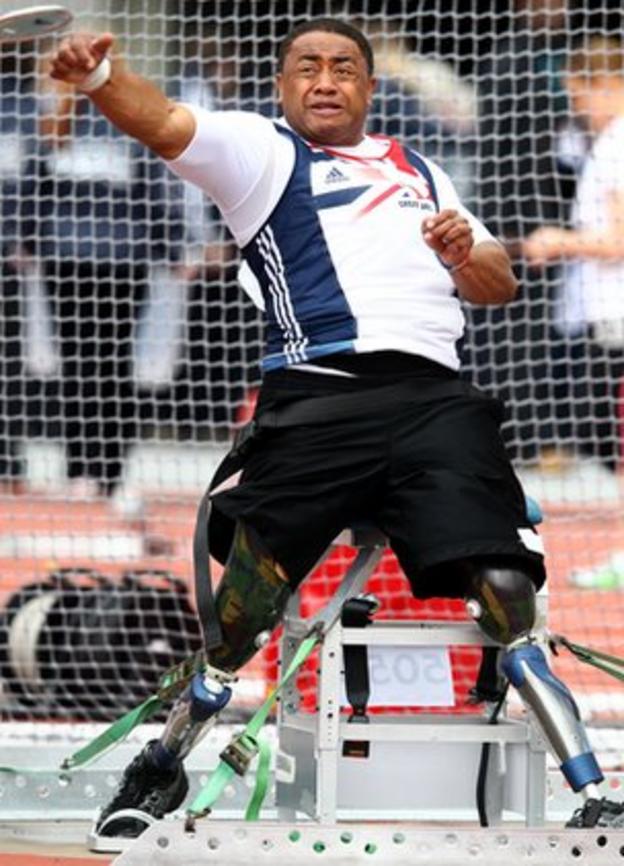 In July 2007, while serving with the British Army in Afghanistan, his vehicle hit an improvised device. He lost both of his legs in the explosion and was pronounced dead in hospital at Camp Bastian. But one of the doctors found a pulse and his long road to recovery started.
Since then, Derenalagi has been heavily associated with Battle Back, first getting involved with Paralympic sport when he took part in a training camp in the United States in 2009 and realising he had a talent for the shot, discus and javelin. He concentrated initially on the shot but since last October has focused on the discus, which is the event he will compete in in London.
The 37-year-old former rugby player says he would have become "a miserable person without sport" and warmed up for the Games with victory in the European Championships in the Netherlands in June. A medal in London on the opening day of athletics action on 31 August is well within his capabilities.
HE SAYS: "I know I was born in Fiji but I was so proud and honoured to represent Britain in the front line in Afghanistan and now it is an honour to represent Britain in a different arena in the Paralympics - it is the biggest achievement I have done in my life.
"I'm so excited to have the chance to compete in front of a home crowd and a massive television audience and being on the podium is my main target.
"Sport has been the best rehab possible for me. It doesn't only help me physically but also mentally in taking away a lot of the negative thoughts from having such a horrific injury. It has allowed me to stay focused and keep working hard and get fit. People say I am a machine but I am not a machine, I am a person and I love what I do.
"The most important thing I have learned since the accident is to accept whatever obstacles you go through in life, because nothing can change that, but you can change tomorrow."