Paralympics 2012: GB's Amy Conroy believes basketball wide open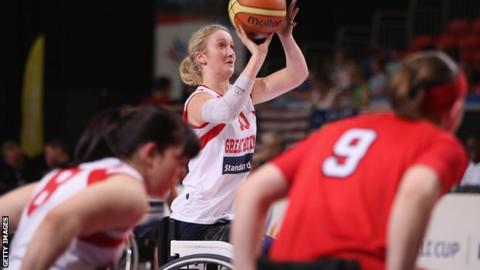 2012 Paralympics
Date:

Wednesday, 29 August to Sunday, 9 September

Coverage:

Extensive daily coverage across Radio 5 Live, 5 live sports extra, the BBC Sport website and Channel 4
Great Britain's Amy Conroy believes it is impossible to predict which team will win the women's wheelchair basketball medals at the Paralympics.
Team GB came fourth at a recent tournament in the Netherlands, who will be their first opponents in London.
"Among the top six teams in the world, everyone's beating everyone," 19-year-old Conroy told BBC Radio Norfolk.
"It will all come down to the day and what happens on the floor. I do believe anything can happen."
"A lot of the games came down to the last few minutes (in the Netherlands) so hopefully when we're feeling drained and tired, the home crowd will give us the extra cheer that will give us a bit more energy."
Britain have never won a women's wheelchair basketball medal, although their male counterparts have collected silvers and bronzes at previous Paralympics.
But Conroy and her team-mates won the World Cup in Manchester last year and are hopeful that with a home crowd again behind them, they can put that right.
"It's so close - it can be the stupidest little mistake that costs you a point.
"As long as we get really fired up for it and play with confidence, I do think we can medal - and right now any colour would be good," she said.
Conroy only took up basketball after losing her left leg because of osteosarcoma, a type of cancer that runs in her family.
And she admitted finding the atmosphere around the squad "surreal" only days ahead of the Paralympics opening ceremony.
"I don't think it's going to feel real until we're on that court with the crowd (around us)," she added.
"I didn't really follow the Olympic basketball in Beijing but got so into it this year and went to watch a game (in London) and was just thinking, 'it's going to be my face on that big screen and us on that court shooting those baskets', it felt awesome."