Jerome Singleton: Scientist, scholar and Paralympian

By Matt Slater
BBC sports news reporter
Last updated on .From the section Disability Sport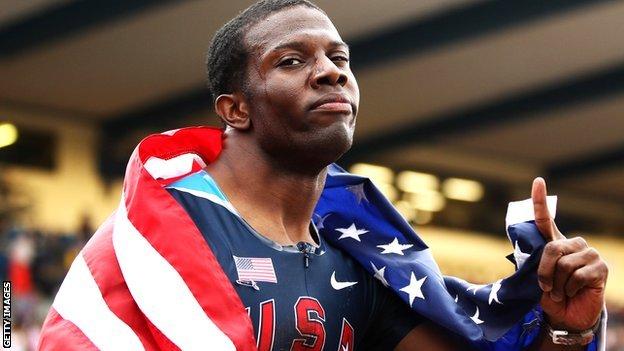 Jerome Singleton has degrees in engineering, maths and physics from two leading American universities, has completed research stints with the European Organisation for Nuclear Research (Cern) and the US space agency Nasa, and is planning to do a PhD in biomechanics.
At high school, he played basketball, track and American football; the latter well enough to be considered for college sports scholarships. And now he is a world champion sprinter.
So Singleton does not really do disability. His entire life is about ability, advantages not disadvantages, positives not negatives.
This attitude, coupled with talent and hard work, has helped Singleton turn what could have been a permanent excuse - the amputation of his right leg below the knee when he was 18 months old - into just another detail in a remarkable story.
"When I first started playing American football, I was a running back and they made me wear a volleyball knee pad so the other kids wouldn't get hurt," said the 26-year-old, explaining the dangers of his prosthetic leg.
"But then I switched to defence. My coach called me 'The Hammer'. I'm a very mild-mannered guy but when I put the pads on I felt invincible.
"The only time I would notice I was disabled was when my foot would break or somebody stepped on my leg and it popped off. I'd be like 'man, this wouldn't happen if I had another foot'.
"But there are benefits. I'm not going to sprain that ankle. Or if I dropped the iron on my foot, I'm not flinching. I've got a 'forever' shin pad!"
I met Singleton, born without a right fibula, at the Team USA Media Summit in Dallas in May, and that comment stayed with me for weeks.
It takes a special person to view such a loss as a "forever shin pad", but then it takes a special person to become a world champion.
That is what Singleton achieved when he beat Oscar Pistorius over 100m at the International Paralympic Committee's (IPC) Athletics World Championships in New Zealand last year.
That was the first defeat in the event for Pistorius, the most famous Paralympian in the world, for seven years.
But it had been coming. Singleton was only 0.03 seconds behind the South African at the 2008 Paralympics in Beijing and their friendly rivalry could be one of the highlights at London 2012.
"He's like a twin brother that you just want to beat," said Singleton of the man who has just become the first double leg amputee to compete at an Olympics. "I'm happy for him, and everything he's done for the Paralympic movement, but when it comes to the rivalry, that's always been part of sport.
"Muhammad Ali had Joe Frazier, Magic Johnson had Larry Bird, Oscar Pistorius has Jerome Singleton. Or maybe it's the other way around - I'm the world champion, right?"
Of that there is no doubt. The 100m final in the T43/44 category at the IPC Worlds was a classic, with all seven finishers going under 12 seconds for the first time and the top four separated by just 0.09 secs.
Singleton practically threw himself across the line to beat Pistorius. The winning margin was eventually recorded as 0.002 secs, a suitably minuscule measurement for a man who has studied the effect of light on the eyes of termites.
But such is the effect that Pistorius has had in terms of redefining what is possible for sprinters who happen to be missing a limb or two, Singleton's winning time at the 2011 Worlds would have only been good enough for sixth in June's US Paralympic track and field trials.
That race was won in a new world record of 10.85 secs by Britain's Johnnie Peacock. Singleton trailed home in fourth, which was good enough to secure the third and final place on the US team for London.
If Singleton was concerned about his placing at the trials you would never know it. You sense, in fact, that he will use the "L" in the same way he used his Beijing 100m defeat in 2008.
"When I went to bed that night, I thought that being second was the first loser," he said. "I knew that if Pistorius wasn't there I could have been the best in the world, whereas he went to bed knowing he was the best in the world. That's when I realised I would have to train harder."
That meant becoming a full-time athlete, a step he took in early 2010, although he is already thinking about a return to academia in 2014. The goal then will be to develop better prosthetics for disabled athletes.
"I respect all my competitors. They go out there every day, with a physical disability, and try to be the best in the world," he explained. "That may lead to life-long health issues. A lot of wheelchair athletes have rotator-cuff surgery. A lot of amputees have knee and hip problems.
"I think it's a moral obligation for the United States Olympic Committee - and people in general who watch the Paralympics - to want these athletes to have productive lives when they've finished. Research could help them."
Athlete, scholar, biomechanics innovator and now campaigner, Singleton is just warming up.
"There is a shift in mindset now about the Paralympic movement. The people in charge now are really seeing the value of it," he said. "It's a lot better today than it was in 2000 and I think it's going to be better.
"You have to show that you're investing in the movement, so that when sponsors come out they can see it's beneficial to sponsor a Para-athlete.
"When you look at the Olympics, it showcases people with God-given talents trying to be the best they can be. At the Paralympics, you've got God-given talents, but it's about the challenges you have to overcome. So it's the strength of the human will that you get to see.
"I think the Paralympic movement is at a tipping point. I honestly believe that, so don't drop the ball, London! A lot of people will be watching."