Paralympics 2012: Ellie Simmonds aims to inspire at London Games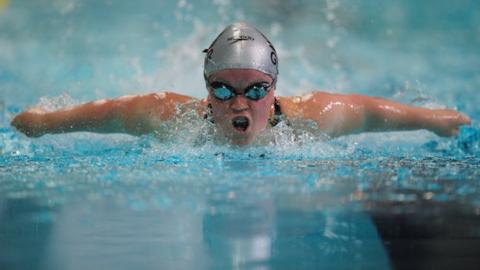 Four years ago Ellie Simmonds burst into public consciousness amidst an eruption of tears which followed her historic 100m freestyle victory.
Great Britain's youngest-ever Paralympic champion at 13 went on to claim another gold in the 400m six days later and the teenager returned to the UK as the new superstar of her sport.
Simmonds though is not someone who craves the limelight and she admits that her journey from China to London has not been an easy one.
"I loved every moment of Beijing and when it finished I was on such a low," Simmonds told BBC Sport.
"Even though there was all of the media stuff which I hadn't done before, by Christmas time I was like, 'what do I have to look forward to?'
It has also taken the swimmer time to adjust to her near celebrity status and frequently being stopped in the street by members of the public requesting photographs.
"Sometimes you think 'can you just leave me alone' and I can become a bit agitated, but you just have to roll with it."
"I love the sport and I do enjoy being recognised and it's great that the Paralympics and swimming is now getting publicity."
London 2012 has certainly brought an unprecedented amount of attention to disability sport and four-time Paralympic gold medallist Marc Woods has expressed concern that this will impact on the performances of some of the sport's higher-profile stars.
He believes that Simmonds has managed her demands well though.
"She's mature beyond her years, delivering in the pool and what the sponsors want to see," Woods told BBC Sport.
"She's important as an inspirational figure to younger swimmers, but she's also from British Swimming's point of view, because if she does misfire they will struggle to hit their medal target."
Woods added, "I can't fault how she has handled herself so far."
Ten-time world champion Simmonds was born with achondroplasia, a form of dwarfism and as such swims in the S6 category for those with a physical disability.
Her condition means that unlike most teenagers, she has not grown significantly in height between the ages of 13 and 17.
However British Swimming has worked on a 'dedicated strength and conditioning' programme since the Beijing Games and Simmonds has continued to make significant improvements in the pool.
In addition to her dominance of the freestyle events she has also added the 200m individual medley to her specialisms and became the first swimmer to set a world record in London's Aquatics Centre at the British Championships in March.
She will not have it all her own way at the Paralympics though with a new rival emerging in the form of American Victoria Arlen, who beat both of Simmonds' 100m and 400m freestyle world best times at the US trials in June.
"It's given me a bit of a buzz really, a bit of determination," admitted Simmonds.
"I'm a very competitive person and being behind the blocks, knowing that she is the world record holder and that I have to beat her, is really exciting."
The swimmer admits she is aware of the public expectation heading into London, but that after finding Beijing at times 'overwhelming' she is now more relaxed.
"I wasn't ready for the size of it [Beijing], but it was just the best experience ever and now with it being London I'm just trying to make the days go slow and taking as many photos so I can just remember it all," said Simmonds.
"I know I have quite a bit of pressure on me because people expect me to just get in the pool and just swim gold medals but that's not the case, it's going to be really tough."
Simmonds, who with her family moved from their home in the Midlands at the age of 11 to base herself in Swansea with elite coach Billy Pye, admits she focuses on times rather than medals heading into major meets.
"The pressure drives me forward so it's a good and a bad thing, but I'm just looking forward to racing and swimming the best I can do on the day," said Simmonds.
"I remember watching Athens and seeing Nyree Kindred [née Lewis] win and being inspired and I hope that there are people out there who will watch not just me, but the whole Paralympics team and think gosh I can go in there and do that.
Simmonds added; "London is aiming for a legacy and hopefully they'll achieve that."
BBC Radio 5 live and Radio 5 live sports extra will be the home of all the major commentary action during the London 2012 Paralympic Games.