Guildford's Rachel Morris thanks supporters after accident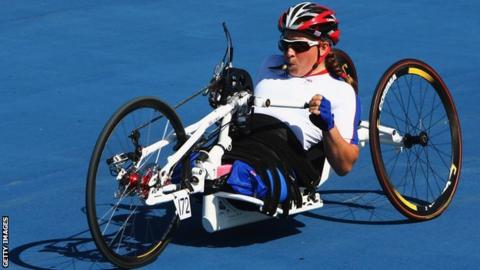 Rachel Morris has thanked supporters who donated money to help her buy a new hand-cycle in time for the Paralympics.
The 33-year-old from Guildford had her training bike written off last month after being hit by a car.
She told BBC Surrey: "Injuries I can sort out but at the time it felt that absolutely everything had been crushed.
"Having worked so hard to qualify it was soul-shattering. I can't thank the people who responded to help me get a brand new bike enough."
She added: "I rode it in a race last weekend as a trial and it felt fantastic, it was so much better."
The Surrey athlete, who suffered a dislocated shoulder in the accident, will defend her Paralympic time trial title at Brands Hatch on 5 September.
Despite recovering and being able to compete in London, Morris believes that the injury has practically ended her chances of another podium finish.
"Due to the accident I had, I think that my medal chances have disappeared," she continued.
"You don't know what's going to happen on the day, so I won't say definitely not, but realistically a medal is not going to happen.
"In terms of intensity of training, I have not been able to get to where I want to be.
"With para-cycling having moved on so much in the last four years, it is a lot harder to achieve anything because the standard has gone so much higher.
"Having had the last five weeks I have leading into this, if I got any kind of medal it would be gold in my head."