Paralympics 2012: Hinton & Miller are GB athletics captains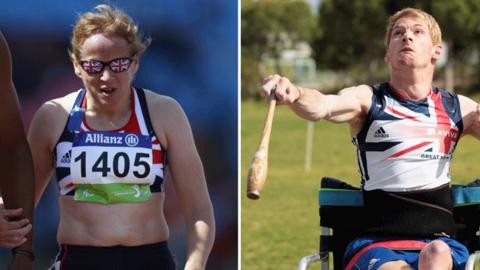 The captains of the British Paralympic women's and men's athletics teams have been named as sprinter Tracey Hinton and thrower Stephen Miller.
Between them, Hinton, from Cardiff, and Northumberland's Miller have competed in nine Paralympic Games.
Hinton will compete in the 200m and 100m, while club thrower Miller will be hoping to score another gold.
The pair were introduced to the 48-strong athletics team at the UK Athletics training camp in Portugal.
After finishing 18th in the Beijing 2008 medal table, the Great Britain athletics team are aiming to finish eighth in London 2012 with a target of 23 medals, including five to eight golds.
"Ever since it was announced that London would host the 2012 Paralympic Games it has been my ambition - and become my obsession - to represent ParalympicsGB in this home Games," Hinton told the team.
She has won three silver and three bronze medals in events from 100m to 800m since she made her Paralympic debut for Britain in Barcelona 1992.
She finished fourth in the T11 200m in Beijing and was sixth in the 100m, and she will compete in those two events in London 2012, her sixth Games.
"After five Games there were times when I thought the door was closing on this opportunity for me, but we've all had our ups and downs," she said.
"The nation will get behind us whether we win or lose, but let's give them something to shout about; let's inspire a new generation of athletes like Mo [Farah] and Jess [Ennis] did during the Olympics."
Miller, a three-time Paralympic gold medallist in the club throw from 1996 to 2004, is another of the team's most experienced members.
"I've been doing this sport for 16 years which makes me feel really old, but when Peter [head coach Peter Eriksson] told me I was team captain I was so honoured," he said.