Paralympics: What is the secret of Ukraine's success?
By Andriy Kravets and Anna Lacey
BBC Ukrainian Service
Last updated on .From the section Disability Sport
One of the teams expected to do well in the Paralympic Games in London is Ukraine after an impressive display in Beijing four years ago.
Although not the most famous of sporting nations, it has moved up the Paralympic medals table faster than any other in history.
On its debut in Atlanta in 1996, Ukraine came just 44th overall. But in a massive improvement of fortunes and 24 gold medals later, finished in fourth place in Beijing in 2008.
Their Paralympic success is even more exceptional considering the difficulty and discrimination that disabled people face in Ukraine.
Just a quick look around the capital, Kiev, and it's clear how normal life can be a struggle. The pavements are raised at least 6 inches (15cm) above the road and very rarely have ramps. Many hotels are lift-free and accessible toilets are rare. Finding a job can be even harder.
The result is that many disabled people, especially those in wheelchairs, live an isolated existence at home.
In an environment seemingly prejudiced against disabled people, what is the reason for Ukraine's Paralympic revolution?
One of the key players is Valeriy Sushkevych - the founder and president of the Paralympic Committee of Ukraine and two-time disabled swimming champion in the Soviet Union.
"In the Soviet Union it was very difficult because the director of the swimming pool would say: 'You must go to hospital, not the swimming pool. Go away, please.'"
Sushkevych, 58, knows first-hand the power of sport to change lives. Having been infected with polio at the age of four, he has spent most of his life in a wheelchair. Only the influence of a strong-willed father determined to keep his son moving meant that Sushkevych's life took a very different path to other disabled boys his age.
"Every summer, my father took me to the sea and pushed me into the water because wheelchairs in the Soviet Union were very very bad," Sushkevych told the BBC. "But when I go into the water, I am free, I can swim. And for me it was a way into able-bodied society."
Under Sushkevych's passionate leadership (he is also a member of the Ukrainian parliament) Ukraine has developed a unique system of physical education and sport for young people with disabilities.
Known as Invasport, there is now at least one school in every region of Ukraine dedicated to introducing a new generation of disabled children to everything from volleyball to athletics and swimming to powerlifting. For most, the experience gives them confidence, friends and an element of physical rehabilitation. A select few become tomorrow's champions.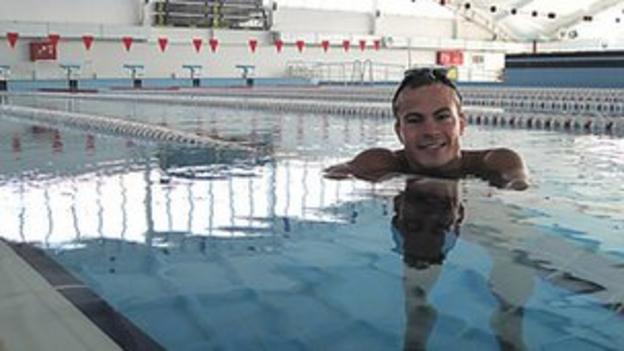 Today, this system is recognised as one of the best in the world, despite lower levels of Paralympic funding than in countries such as China, the UK, the US and Australia. These nations and others around the world are now looking to Ukraine to share its experience.
The flagship hub for Ukraine's Paralympic movement is a training centre on the Black Sea coast in Yevpatoria, Crimea. This state-of-the-art base is built on the site of a former Communist youth camp, and now has some of the best facilities in Europe for both disabled and non-disabled athletes.
This is in stark contrast to the running tracks and swimming pools in other parts of Ukraine.
"Many [swimming pools] are on the second floor so it's hard for disabled people to get into. They have many steps and many of them are half ruined," said 22-year old Iurii Martynov, a swimmer preparing to take part in his first Paralympics.
"This centre is important because it has no barriers for disabled people," he says. "At home, many people just don't practice because they don't have the opportunity. When they see this place for the first time I think they're surprised, like this is too cool for Ukraine!"
But great facilities and school programmes do not come for free. The Government provides most of the funding, although additional income is generated by hiring out rooms at the training centre to holidaymakers and those seeking to use the facilities for rehabilitation. This allows the Paralympians free food, training and accommodation.
However, financial support from big brand companies is less forthcoming. Although the website for the Ukrainian National Olympic Committee is bursting with adverts and proud sponsors, the equivalent Paralympic website is notably banner-free.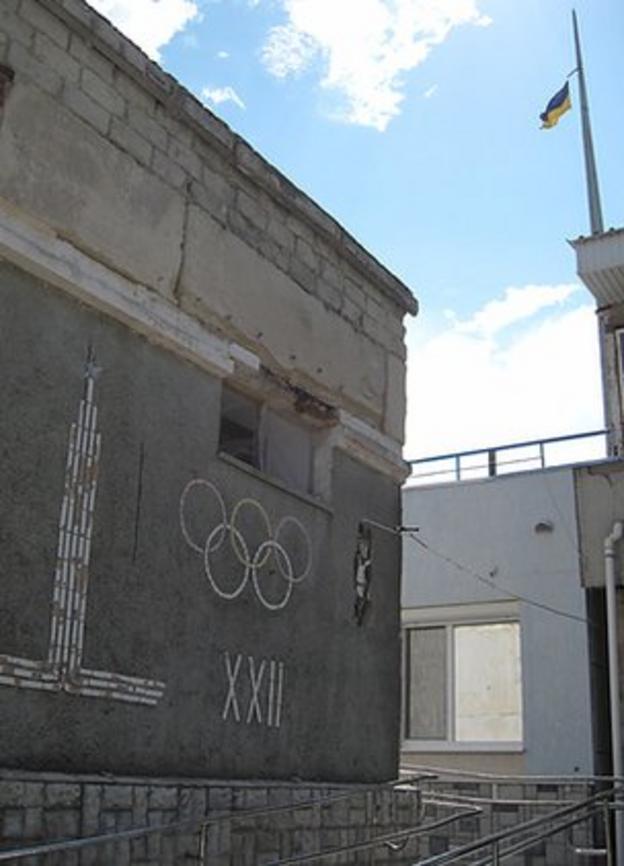 Sergiy Boiko, the CEO of Volia Cable and the one of only two Paralympic sponsors, says that the low returns on advertising mean Paralympic sponsorship is more altruistic.
"Of all the companies I've met among sponsors in 2007 or 2008, none of them were trying to advertise themselves via the Paralympic committee. In my eyes such sponsors are trying to share the same values, which for our company are freedom and willpower," said Boiko.
The Ukrainian government's head of sport, Ravil Safiulin, says that they are making a concerted effort with domestic media to promote the team's successes at London 2012, and accepts there's a lot of room for improvement.
"We have to talk to our media which doesn't cover the Paralympics enough. This is our fault, this is our mistake and we need to correct it," Safiulin tells the BBC. "Change will come with time because there are heroes in Olympics, but there are also heroes in Paralympics. They are the pride of the nation and everyone should know about them."
As in Beijing, the Ukrainian government will award substantial prize money to medal-winners in both the Olympics and Paralympics.
For double-gold winning, world-record holding powerlifter Lidiya Solovyova, who has a form of dwarfism, the rewards and respect gained from sport have been truly life-changing.
"Of course, through sport I've achieved a lot. Everything. Before sport I had practically nothing. Actually, not practically - literally I had nothing. I had no flat. I had no salary. I had no good pension. But now thanks to sport I have all these things," Solovyova says.
"I have the attention from my team-mates and from my friends outside sport. I'm more respected now and have official state honours. I'm not a nobody."
As she prepares to defend her title, it remains to be seen if Ukraine's wider attitude to its disabled citizens will improve thanks to their Paralympians' success.