Paralympics 2012: Jon-Allan Butterworth sorry for comments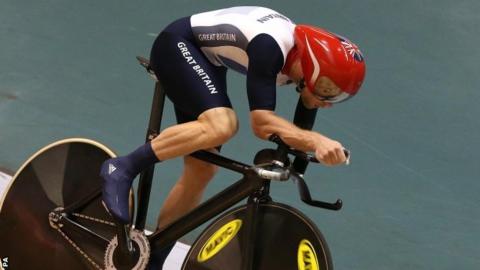 Para-cycling world champion Jon-Allan Butterworth has apologised for comments he made criticising fellow athletes.
Butterworth, 26, reportedly told the Daily Telegraph that he believed Great Britain Paralympic athletes outside of cycling were "just having a laugh".
"I was ill-informed and was not aware how hard the selection process is in athletics," he said in a statement.
"The team ethos is important to me and I apologise if I have upset any of my fellow athletes."
Butterworth was upset that Paralympic athletics received more funding than cycling in the build-up to the 2012 Games despite cycling out-performing their counterparts in Beijing.
GB cycling won 17 gold and three silver medals in 2008 while athletics picked up two gold, seven silver and eight bronze.
Peter Eriksson, head coach of the UK Athletics Paralympic programme, was not impressed by Butterworth's original comments, especially since his team showed a massive improvement with 12 gold, nine silver and 17 bronze medals at last year's World Championships.
"We were kind of disappointed when somebody says we're wasting away money when we're performing better and better," he said.
"We all appreciate the cyclists' hard work and I think they will do fine, together with us, and hopefully they reach the medal count we will have."
Three-time Paralympian David Weir also believes that the funding has been put to good use by athletics.
"Yes, we have had money invested in us from the lottery, but if you show what we did in 2011 in the World Championships - we came away with 12 gold medals. So the funding's good," he said.
Butterworth lost his left arm in 2007 following an insurgent rocket attack in Iraq while on service for the RAF.
He spent a year in physical rehab before being introduced to cycling at a Paralympics GB talent day at Loughborough University.
The reigning C5 1km time trial world champion is now keen to focus on competing in his first Paralympics and hopes his team-mates can have a successful Games.
"I'm sure they will have a successful Games, as I hope the cyclists will. This is my first Paralympics and I am keen to do my talking on the track," Butterworth added.
GB Para-cycling performance manager Gareth Sheppard is also keen to move on from the incident and insisted that focus should now turn to the Games.
"We don't want to get carried away with this and let it distract from our preparation. There's always banter between sports and this is no different," he said.
"We've talked to Jon-Allan and he realises how this could be received by other athletes and it was not his intention to make headlines in this way.
"As a team we now need to focus on our competition which starts on the track on Thursday."
Sheppard also praised Eriksson's work with the athletics team.
"Athletics has seen a fantastic turnaround under Peter Eriksson in the last few years. We wish them and every other GB team success at these Games," said Sheppard.