Michael McKillop's 800m now straight final as heats are scrapped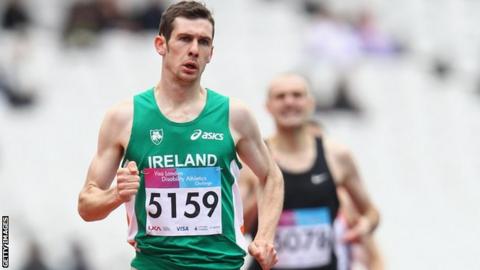 Michael McKillop's Paralympics will not begin until Saturday evening's T37 800m final after Friday's scheduled heats were scrapped.
McKillop's coach, his father Paddy, told BBC Sport that he had "mixed feelings" at the news that the Northern Ireland athlete will now defend his 800m title in a straight final.
"It would have been nice to get a look at the opposition," he said.
"But on the other hand, it's one race less ahead of Monday's 1500m final."
McKillop, who has a mild form of cerebral palsy, won the 800m title four years ago in Beijing in a world record time but the competition programme in China did not include a T37 1500m.
The 22-year-old admits that he was a "bit envious" as his regular room-mate and good friend Jason Smyth clinched two gold medals in world record times in Beijing.
"Being around Jason, I want to be the same as him. I sound like a wee child," laughs McKillop.
"But in 2008 he came back with two gold medals and two world records. I came back with one gold and one world record.
"Funnily enough, I thought it was a bit annoying because somebody was getting a bit more of the spotlight. I didn't have the chance to run the 1500m.
"Come London I am going to try to make it my time to shine and bring Paralympic sport out to what it deserves to be regarded as - elite sport."
Smyth will see Friday action with his T13 100m heats scheduled to take place at 21:35 BST ahead of his expected appearance in Saturday evening's final (19:15).
McKillop will defend his 800m gold medal at 20:58 on Saturday while later that night Ballykelly athlete Sally Brown will also hope to be involved in the women's T46 200m final for Britain at 21:53.
2011 World Championship bronze medallist Brown will firstly have to negotiate the 200m heats on Friday at 12:05.
Following Wednesday's opening ceremony, cyclist James Brown, equestrian hopeful Eilish Byrne and archer Sharon Vennard will be the first Northern Ireland competitors in action at the Games on Thursday.
Portaferry man Brown, remarkably, is back at a paralympics 28 years after winning 800m and 1500m athletics golds in New York in 1984.
In those days, visually-impaired Brown represented Britain but the 47-year-old, who also previously competed at Winter Paralympics, will be in the green Irish vest as he competes in four cycling events at the London Games.
Brown goes in the 4km individual pursuit in the velodrome on Thursday and his Games will also include trips to Brands Hatch for the road race and road time trial.
Armagh-based Byrne, who was born with spina bifida, opens her Games in the Team Equestrian event for Ireland on Thursday with the 48-year-old's individual competitions taking place on Saturday and Monday 3 September.
Newtownard woman Vennard starts her campaign for Britain in Thursday's individual and team archery qualifying events and will hope to be in action all the way through to the team final on Wednesday 5 September.
Seaforde swimmer Bethany Firth, who has an intellectual disability, opens her Games with the 100m backstroke on Friday with her 200m freestyle and 100m breaststroke challenges following on Sunday and Thursday 6 September.
Another county Down swimmer Laurence McGivern competes in the 100m backstroke on Friday.
SCHEDULE OF NORTHERN IRELAND PARALYMPIANS
Thursday 30 August
James Brown - T13 4K individual Track Pursuit (09:30)
Eilish Byrne - Equestrian Team Test (14:15)
Sharon Vennard - ST1 Individual and Team Archery (14:00)
Friday 31 August
Bethany Firth - S14 Swimming 100m backstroke (heats 11:18 - final 19:38)
Laurence McGivern - S9 Swimming 100m backstroke (heats 10:30 - final 18:32)
Sally Brown - T46 Athletics 200m heats (12:05)
Jason Smyth - T13 Athletics 100m heats (21:35)
Saturday 1 Sept
Eilish Byrne - Equestrian Individual Championship (09:00)
James Brown - T13 Track 1K time trial (09:30)
Sharon Vennard - ST1 Individual Archery (10:30)
Jason Smyth - T13 Athletics 100m final (19:15)
Michael McKillop - T37 Athletics 800m final (20:58)
Sally Brown - T46 Athletics 200m final (21:53)
Sunday 2 Sept
Bethany Firth - S14 Swimming 200m freestyle (heats 10:07 - final 17:56)
Sharon Vennard - ST1 Individual Archery (10:30)
Monday 3 Sept
Eilish Byrne - Equestrian Individual Freestyle (09:00)
Michael McKillop - T37 Athletics 1500m final (20:31)
Tuesday 4 Sept
Sharon Vennard - ST1 Individual Archery (10:30)
Sally Brown - T46 Athletics 100m heats (11:39)
Wednesday 5 Sept
James Brown - T13 Cycling Road Time Trial (14:30)
Sharon Vennard - ST1 Team Archery Final stages (09:00)
Thursday 6 Sept
Bethany Firth - SB14 Swimming 100m breaststroke (10:32 heats - final 18:31)
Jason Smyth - T13 Athletics 200m heats (11:03)
Friday 7 Sept
Jason Smyth - T13 Athletics 200m final (19:18)
Saturday 8 Sept
James Brown - T13 Cycling Road Race (14:30)