Paralympics 2012: Archer Mel Clarke ready for crowd fervour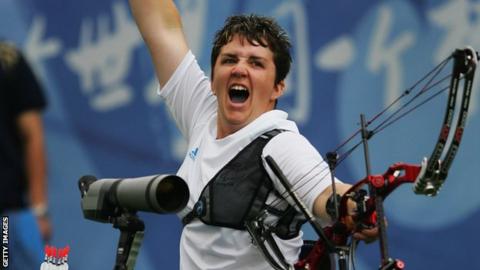 Archer Mel Clarke hopes noise simulation exercises will pay off as she attempts to win gold for Britain at the London Paralympics.
The 29-year-old is expecting a wall of sound at Wednesday's opening ceremony and plenty of volume from spectators at the archery competition.
"As a squad, we've had people shouting and cheering at us, so it shouldn't be a complete surprise," she said.
"But I don't think you can simulate 100,000 people at an opening ceremony."
Clarke, whose Great Britain team-mate Danielle Brown is among her main rivals, has won gold medals at the World Championships and is determined to improve on her bronze medal at the 2008 Games in Beijing.
And she believes competing on home soil will work to her advantage.
"It's going to be unreal shooting on home soil. The support Team GB had at the Olympics was brilliant, so I'm really looking forward to it," she told BBC Hereford & Worcester.
"There was definitely a volume difference when the home nation's competitors came out (in Beijing) and it's going to maybe be a little bit scary this time with everybody cheering for GB."
Clarke's individual compound competition gets under way at the Royal Artillery Barracks on Friday, with the final taking place on 4 September.