Paralympics 2012: GB could suffer from pre-Games media distractions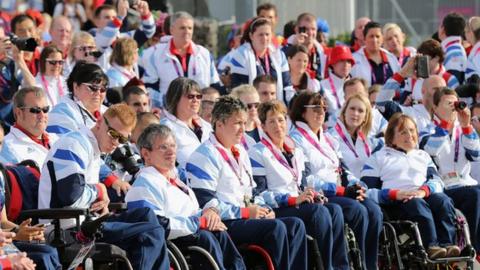 2012 Paralympics
Date:

Wednesday, 29 August to Sunday 9 September

Coverage:

Extensive daily coverage across 5 live, 5 live sports extra and the BBC Sport website
Britain's medal prospects may struggle because of their commercial commitments ahead of the Games, says four-time Paralympic champion Marc Woods.
Paralympic sport has experienced previously unseen levels of interest in the build-up to London 2012.
However, that has brought with it new demands on the athletes.
"You may see one or two bigger names not quite deliver. I wonder whether they are getting that balance right," admitted swimmer Woods.
"You see so many Paralympians in adverts, on TV and tweeting about going to dinners and events.
"I would question how much time they have spent being asked to do some of the nice stuff and not the other [resting]," added the BBC Radio 5 Live analyst, who won four golds, five silvers and three bronzes during a Paralympic career stretching from Seoul in 1988 to Athens in 2004.
After Britain's Jonathan Fox broke his own world record in the S7 100m backstroke heats and both Nyree Kindred and Hannah Russell qualified quickest for their respective finals on the opening day of the Games, Woods admitted he would "happily be proved wrong".
Great Britain won 102 medals at the Beijing Games four years ago. Buoyed by that success and the fact the Paralympics are on home soil, commercial interest has increased exponentially in recent months.
"It's difficult to balance because it's something we're not used to," admitted seven-a-side GB footballer Matt Dimbylow.
"I think it's something that you learn very quickly and the important thing is not to get carried away with it and keep your feet very much on the ground."
ParalympicsGB chief executive Tim Hollingsworth thinks the added pressure being placed on the athletes can be described as a "growing pain" of the Paralympic movement.
"As we develop, as we mature, we have to take these things on board and recognise that increased profile brings increased responsibility," Hollingsworth told BBC Sport.
"There was always a risk in this period, as there was for Olympic athletes, that the distraction of being so wanted and so in demand would take away from performance.
Inspired by the success of the Team GB Olympians, Hollingsworth is confident that the ParalympicsGB athletes can beat their total from the Beijing Games and win more medals across more sports.
"We have to trust our athletes and the teams that they are in and I take a bit of comfort from knowing that the athletes who performed and delivered in the Olympics, like Jessica Ennis, were in as great a demand going into their Games and it clearly didn't negatively impact on them."
Hollingsworth added: "I've been with Ellie Simmonds and David Weir, who are two of the biggest names we have got, and they've only wanted to talk performance and the Games, and that's something I'm very pleased about."
Full coverage of the London 2012 Paralympics is on BBC 5 live and 5 live Sports Extra.