NI athlete Michael McKillop aims for Paralympics double
By John Haughey
BBC Sport NI
Last updated on .From the section Disability Sport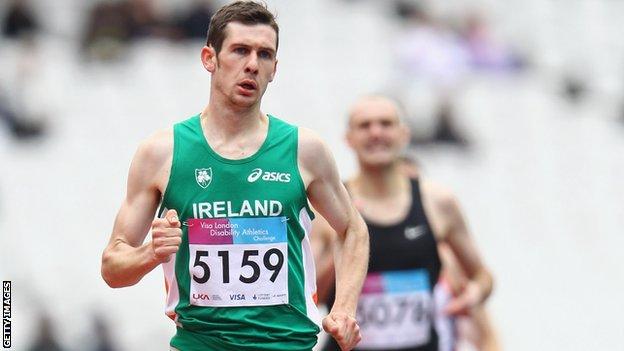 Michael McKillop will aim to extend a six-year unbeaten record at Paralympic level when he defends his 800m T37 title in the Olympic Stadium on Saturday evening.
It could be a very special night of action for Northern Ireland athletes with Jason Smyth and Sally Brown also both set to race for track and field medals.
McKillop heads into the Games hoping to clinch double gold as he will also compete in the T37 1500m final on Monday evening.
The 22-year-old Team Ireland athlete has not lost in paralympic events since taking silver in the 1500m in the 2006 World Championships.
The Glengormley native responded by winning the World 800m title in Holland a couple of days later and an unbroken run of wins since then includes his gold medal in Beijing.
Michael's mild from of cerebral palsy was discovered by doctors when he was two years old.
"I was brought to hospital after I fell down the stairs and it was then my parents were told," says the paralympic star, who is coached by his father Paddy.
"My parents took it in their stride and got me the best treatment. They did sport with me for physio and kept me active.
"Combined with that was the help that they gave me with my education. I'm so grateful to them."
Paddy and Catherine fought for young Michael every step of the way which included their son needing to have his right leg in plaster for an entire year at the age of six.
"It was a harder childhood than most kids but because my parents and the doctors and physios did so much with me, it helped me in the long term," adds the runner.
"For example, I was taught not to walk on my toes.
"But whenever I'm tested, the ability that I have is exactly the same as the (cerebral palsy) people who walk on their toes more or whose hands are curled up."
In addition to his cerebral palsy, Michael also had dyslexia before being diagnosed with epilepsy at the age of 15.
"The epilepsy has to be treated or it could take over my life and I have to be careful not to overdo training but all the fits happen in my sleep so I know I'm going to be in a bed or somewhere safe.
"But when you do get it, it can leave you drained for up to a week and you barely leave your bed.
"For me, it's a case of taking my medication and getting enough sleep but you can't really stop it from happening. If there is enough electricity going round in your brain it will burst through."
Michael took his first steps into athletics as an 11-year-old under the tutelage of the highly-respected Bobby Rea at the Abbey club before switching schools to St Malachy's College in north Belfast accelerated his running development.
Under John Morrin's guidance, St Malachy's had developed into a seat of athletics excellence in the 1980s and 1990s with regular appearances at major events such as the Penn Relays in the US and Paddy McKillop was the school's senior coach by the time Michael arrived.
"Going to St Malachy's changed my life. I was being trained there by my father four or five days a week with some of the best young able-bodied athletes in the country when I was only 13," recalls Michael.
His first paralympic race in the National Celebral Palsy Championships in Dublin in the summer of 2005 saw the unknown McKillop push Athens Paralympics bronze medallist Derek Malone hard before having to settle for second place.
However, Irish Paralympic bosses had been alerted to McKillop's potential and within a matter of weeks, Michael won two silver medals at the European Open Championships in Finland.
McKillop took home a gold and a silver from the IPC World Championships in Assen a year later and the mantle of favouritism didn't faze him at the 2008 Paralympics in Beijing as he claimed 800m gold in a world record time of 1:59.39.
2009 demonstrated McKillop's ability to beat talented able-bodied athletes as he clinched a remarkable victory in the Irish Under-20 Cross Country Championship which earned him a vest at the European Championships in Dublin.
The successes continued in early 2011 in New Zealand as he set two more world records on the way to clinching the 800m and 1500m wins at the IPC World Championships.
A "worryingly inconsistent" summer season followed his Christchurch triumphs last year but a new 1500m personal best of 3:52.19 when running in an able-bodied meeting in Manchester three months ago told McKillop that his training was on schedule for London.
"I haven't been ill or injured in the last couple of months and I've been consistently under the 3:55 mark for 1500m which I only got under once last year," he continues.
"I am so much more relaxed going into London than I was before Beijing.
"The training has been going very well with my father and I know my ability.
"On the day, all I can do is my best and execute the race the way I want to and hopefully that's good enough.
"I haven't been beaten in Paralympic Sport since 2006. I don't want that unbeaten record to be lost."