Paralympics 2012: GB shooter Di Coates fails to reach R2 rifle final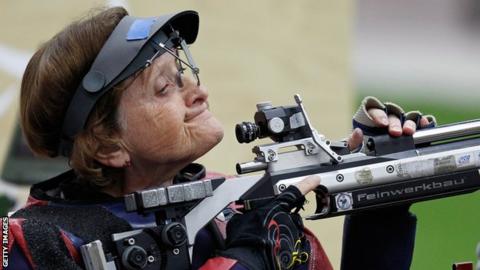 British shooter Di Coates has missed out on the chance of winning the first gold medal at the 2012 Paralympics.
The 58-year-old, who is competing in her eighth Paralympics, finished ninth in the qualifying section of the women's R2-10m air rifle, with the top eight going into the final.
"Everything was going alright until the last series," she told BBC Sport.
"I hit two not-so-good shots in succession and that unnerved me and I couldn't pull it back after that."
Coates started strongly by shooting 99 out of 100 in the first series, followed by 98 in the following two series to put her in contention for the eight-woman final at the Royal Artillery Barracks.
However, she struggled in the fourth and final series, hitting nines with her fifth and sixth shots and she tried to regroup after words of encouragement from her coach Bernard Kooistra.
But she was unable to recover sufficiently, scoring a disappointing 94 in the series to finish on 389, two shots behind the eighth-placed shooter, 70-year-old Australian Libby Kosmela.
China's Zhang Cuiping set a new Paralympic qualification record of 396 to top the standings and later went on to win gold.
The other two Britons in the competition, Karen Butler and Mandy Pankhurst, were 12th and 16th respectively.
Coates will now have to regroup for Saturday's mixed 10m air rifle prone event
"It was disappointing. You try to keep it together until the last shot on the range but it is difficult," she added.
"I was fine to start off with and I wasn't nervous and I wasn't aware of how everyone else was shooting. I was just trying to focus on myself and I was fine until that last series but shooting those bad shots put me off track.
"It was good to have friends and family there because they haven't seen me shoot before and it would have been nice to do it for them, but it wasn't to be."
Meanwhile, Adrian Bunclark finished 30th in qualification for the P1-10m air pistol event, with only the top eight making the final.