Paralympics 2012: Victoria Arlen to face Ellie Simmonds
Last updated on .From the section Disability Sport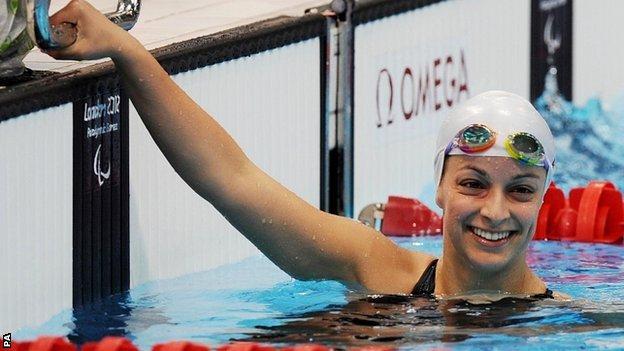 Victoria Arlen will face Briton Ellie Simmonds on Saturday after the American Paralympic swimmer's eligibility for the S6 category was confirmed.
The 17-year-old world record holder will take on Simmonds in the 400m final in London at 17:55 BST.
Arlen had been ruled ineligible for the Games on Monday as her impairment was deemed not severe enough to qualify.
But an appeal was upheld on Wednesday and confirmed after Arlen was observed during her heat on Saturday.
A statement from the International Paralympic Committee said: "IPC Swimming can confirm that following this morning's heat in the Aquatics Centre the USA's Victoria Arlen will continue to compete in the S6 class with a review date set for August 2013.
"Due to the different technicality of stroke required in breaststroke a similar observation in competition will take place in her first SB race."
Arlen is a former champion swimmer who was left paralysed in 2006 by a virus that affected her spinal cord and also left her in a vegetative state for two years.
She came to prominence at the US trials earlier this year when she broke Simmonds' 100m and 400m freestyle world records, but her name was removed from the London 2012 official race lists on Wednesday.
Arlen also competes in the SB5 class in breaststroke, with swimmers classified differently for each stroke due to the nature of their impairment.
The American qualified second fastest for Saturday's S6 400m final behind Simmonds.
"It has been a rollercoaster but I have an incredible Team USA that has been supporting me," said Arlen.
"But it is what it is, it comes with the sport and I am just happy to be here, happy to swim and happy to represent my country. I'm ready to go always."
Of the circumstances surrounding Arlen, Simmonds said: "I've been aware of it, I've just had to focus on myself, I can't control her.
"At the start of the week she was an S6 and now she is an S6. It is good that now she is an S6 it is going to give me someone to race and she is going to push me to my limits and the best of my ability and I am really excited for that."
Americans Justin Zook and Mallory Weggemann were both reclassified and moved up classes on Monday.
It means that both two-time US Paralympic champion Zook and team-mate Weggemann will now compete against athletes considered to be more able-bodied.
The moves followed the standard re-testing of athletes by the IPC, which traditionally takes place prior to all major championships.
Of the 245 athletes classified at London 2012 so far, 142 have had their status confirmed, with 40 competitors being moved to different classes.