Paralympics 2012: NI cyclist James Brown misses on bronze
By John Haughey
BBC Sport NI
Last updated on .From the section Disability Sport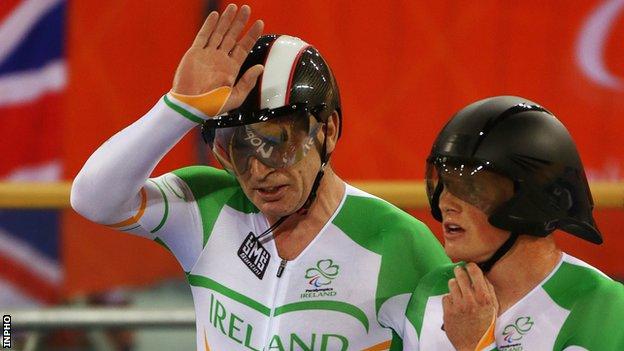 Portaferry man James Brown missed out on becoming Northern Ireland's first medal winner at the Paralympics after finishing fourth in the 4K pursuit event on Thursday.
Visually-impaired cyclist Brown, 47, and his Irish tandem partner Damien Shaw were pipped by the Spanish pair in the bronze medal race.
Brown won two athletics golds medals for Britain at the 1984 Paralympics.
He will be in action in three more cycling events at the Games.
Brown and Mullingar man Shaw looked on course to clinch the bronze as they led by almost a half a second at the halfway point in Thursday evening's race.
However, Spanish duo Miguel Angel Clemente and Diego Munoz steadily chipped away at the Irish pair's lead to move ahead after the third kilometre and went on to win by 2.06 seconds.
Brown said: "I'm disappointed not to be on the podium and while fourth is sometimes the hardest position to come I can't complain."
The Irish hopefuls clocked 4:26.075 which was over half a second slower than their fourth fastest qualifying time on Thursday morning (4:25.557).
Brown won athletics 800m and 1500m golds for Britain in the 1984 Paralympics in New York.
The county Down native's London Games will also include trips to Brands Hatch for the road race and road time trial.
Armagh-based Equestrian hopeful Eilish Byrne was seventh after competing in the opening Team Test event on Thursday.
Byrne, 48, finished with a 67.714 percentage in the opening dressage event which left her over eight percent behind British leader Natasha Baker.
The Irishwoman, who was born with spina bifida, will be in action again on her horse Youri in the individual competitions on Saturday and Monday.
"Youri was a little tense and I struggled to keep him relaxed. Our score was a little lower than usual," said Dundalk native Byrne.
In swimming, Ireland's Ellen Keane finished seventh in the S9 100m butterfly final.
Keane clocked a personal best of 1:13:51 in the morning heats and was marginally slower in the final (1:14.04) won by South African star Natalie du Toit in 1:09.30.
James Scully narrowly missed out on qualification for the S5 50m freestyle final after clocking a time of 38.18 seconds.
Both Keane and Scully have their strongest events to come in London.
SCHEDULE OF NORTHERN IRELAND PARALYMPIANS
Thursday 30 August
James Brown - T13 4K individual Track Pursuit (09:30)
Eilish Byrne - Equestrian Team Test (14:15)
Sharon Vennard - ST1 Individual and Team Archery (14:00)
Friday 31 August
Bethany Firth - S14 Swimming 100m backstroke (heats 11:18 - final 19:38)
Laurence McGivern - S9 Swimming 100m backstroke (heats 10:30 - final 18:32)
Sally Brown - T46 Athletics 200m heats (12:05)
Jason Smyth - T13 Athletics 100m heats (21:35)
Saturday 1 Sept
Eilish Byrne - Equestrian Individual Championship (09:00)
James Brown - T13 Track 1K time trial (09:30)
Sharon Vennard - ST1 Individual Archery (10:30)
Jason Smyth - T13 Athletics 100m final (19:15)
Michael McKillop - T37 Athletics 800m final (20:58)
Sally Brown - T46 Athletics 200m final (21:53)
Sunday 2 Sept
Bethany Firth - S14 Swimming 200m freestyle (heats 10:07 - final 17:56)
Sharon Vennard - ST1 Individual Archery (10:30)
Monday 3 Sept
Eilish Byrne - Equestrian Individual Freestyle (09:00)
Michael McKillop - T37 Athletics 1500m final (20:31)
Tuesday 4 Sept
Sharon Vennard - ST1 Individual Archery (10:30)
Sally Brown - T46 Athletics 100m heats (11:39)
Wednesday 5 Sept
James Brown - T13 Cycling Road Time Trial (14:30)
Sharon Vennard - ST1 Team Archery Final stages (09:00)
Thursday 6 Sept
Bethany Firth - SB14 Swimming 100m breaststroke (10:32 heats - final 18:31)
Jason Smyth - T13 Athletics 200m heats (11:03)
Friday 7 Sept
Jason Smyth - T13 Athletics 200m final (19:18)
Saturday 8 Sept
James Brown - T13 Cycling Road Race (14:30)