Paralympics: Mallory Weggemann shocked by classification change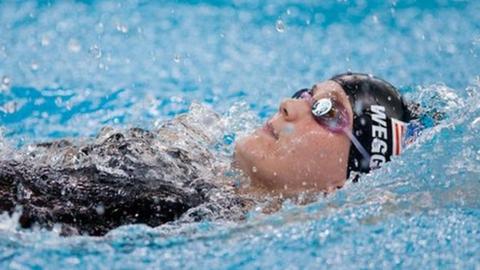 2012 Paralympics
Date:

Wednesday, 29 August to Sunday 9 September

Coverage:

Extensive daily coverage across 5 live, 5 live sports extra and the BBC Sport website
US swimming star Mallory Weggemann says she has "lost faith" in the Paralympics system after having her classification changed on the eve of the Games.
The 23-year-old, going for nine golds in London, will now compete for seven after being moved into a category for less severely disabled athletes.
"It was a huge shock," Weggemann told BBC World Service.
"As an athlete it was not only a shock but it left me very frustrated with the system. I lost faith in it a bit."
Weggemann lost the use of her legs after receiving a series of epidurals to treat shingles shortly before her 19th birthday.
She was inspired to become a Paralympic athlete after watching the US swimming trials ahead of Beijing in 2008 and went on to win a stunning eight golds and a silver, setting nine world records, at the 2010 World Championships.
That was in the S7 category, but she was reclassified on Monday after evidence was presented to the International Paralympic Committee showing she was not in the correct class. A US Paralympic Committee appeal was rejected on Wednesday.
"I was always borderline of the S6 and the S7 category, so for me to be moved up to an S8 was very hard," she said. "It's not something I expected.
"It changes my events, it changes a lot of things, and just like every other athlete here I've spent the last four years training for this moment.
"To come in and three days before competition have to go through a classification, and less than 24 hours before I was originally supposed to compete find out that my appeal was denied, is very disheartening."
She added: "I'm a T10 complete paraplegic, I have no feeling or movement from my belly button down and I'm competing against people who are bi-lateral double amputees below the knee, who have, from below the knee up, full function.
"It's like competing against seven athletes who are doping, in a sense, when you're at that big of a disadvantage.
"It's hard to see that the system is fair when you take an athlete that's borderline of the 6/7 category and turn them into an S8."
Weggemann was not alone in being reclassified, with compatriot Justin Zook moved from S9 to S10 and
"I think one of the biggest things that is frustrating to us is that there is a lot of time to do these protests, there's the past six, seven, eight months they could have done a protest," said Weggemann.