Paralympics 2012: Cockroft wins first GB track gold
By Saj Chowdhury
BBC Sport at the Olympic Stadium
Last updated on .From the section Disability Sport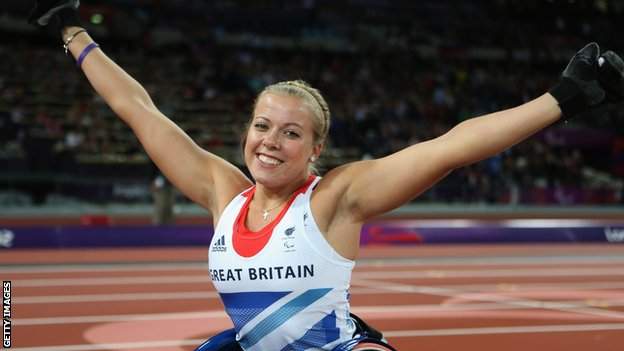 Hannah Cockroft decimated the field to win Great Britain's first gold of the Paralympics track and field competition in London's 2012 Olympic Stadium.
The wheelchair athlete from Halifax burst clear after 60 metres to take the T34 100m title in a new Paralympic record time of 18.05 seconds.
"I've been waiting four years for that," said the 20-year-old is also racing in the 200m on Thursday.
"I didn't know whether to laugh or cry when I crossed the finish line."
The Yorkshire athlete, who set a new 100m world record of 17.60 in Switzerland this year, said she was confident of living up to her billing as the odds-on favourite.
"Looking at the times in the heats and their personal bests, I was miles ahead of them and I knew deep down I could do it, but it's what happens on the day," she added.
"It's a bit surreal when you're dreaming about if for so long and then it just kind of happens, in 18 seconds.
"I was a bit nervous because a lot of people out there expected me to do that. I knew I could but you have to keep you feet on the ground."
Aled Davies secured Britain's first athletics medal of the Games when he won bronze in the F42/F44 shot put.
The 21-year-old amputee saved his best effort until the last of his six attempts, when he recorded 961 points.
Dorking's Sophia Warner, who has cerebral palsy and making her Paralympics debut at the age of 38, finished fourth in the T35 200m final.
"I can't believe I did that with a slipped disc," she said. "My goal was to set a personal best and that's what I did.
"I feel more comfortable going into the 100m now, because for me, that's the scary one of out of the way. Now I'll just get my head down and see if I can get a medal."
Fellow Briton Derek Derenalagi also missed out on a medal in the men's F57/F58 seated discus final.
The 37-year-old, who lost both his legs while serving in Afghanistan five years, when a Taliban bomb exploded under his vehicle, said: "Having been wounded while serving my country, I'm just thankful that I made it to the Paralympic Games but obviously I'm frustrated not to have made it into the final.
"It was amazing and an honour to go out there where 80,000 people are cheering for you. It was fantastic for my friends and family. I'd like to thank everyone who helped me get here."