Paralympics 2012: Butterworth silver but Cundy denied restart
By Mike Henson
BBC Sport at the Olympic Park
Last updated on .From the section Disability Sport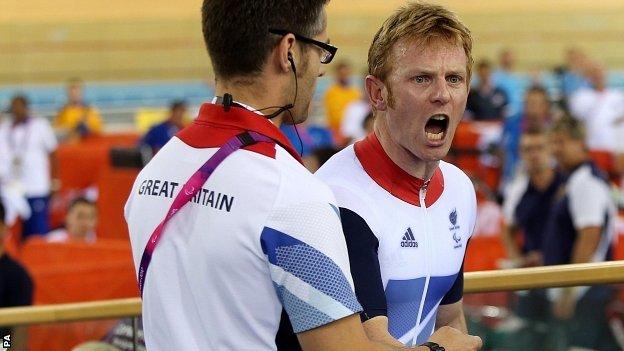 British favourite Jody Cundy's bid to secure 1km time trial gold ended in controversy and anger as officials denied the GB rider a restart.
Jon-Allan Butterworth took silver for GB behind Spain's Alfonso Cabello as Cundy raged in the centre of the track.
Cundy, the C4 world record holder and world champion, had appealed for a second attempt as his rear wheel slipped leaving the starting gate.
However, officials ruled the fault lay with Cundy rather than the equipment.
The furious Briton, unbeaten in the kilo since 2006, then had to be restrained by a ParalympicsGB team member as he was escorted out of the arena, but later returned to address the crowd.
"I came here to show the world what I can do and respond to the crowd that has just been amazing, especially when you are wearing a GB vest," said Cundy.
"I would like to apologise for my language, even over the noise I think you might have been able to hear it.
"Congratulations to all my competitors, it was an amazing world record to win that kilo race and I will come back tomorrow in the C4 pursuit. These things happen."
GB coach Chris Furber insisted that he felt the starting gate had not released properly and Cundy should have got a restart.
"The gate commissar, on inspection of the gate, said the gate was fine, the start commissar said he felt the release gate was fine, so the chief commissar ruled that there wasn't a mishap," he explained.
"We spoke to the [governing body] UCI. We asked them to review the TV footage. They said it would be inadmissible, that they wouldn't review the footage and that the decision stands.
"Naturally we started arguing with them. We felt that the gate hadn't released properly, which honestly is what I saw, but they didn't see it like that and they wouldn't let him restart."
Cundy later told reporters that his anger stemmed from a belief that gold was well within his grasp.
His C4 world record, clocked in March 2011, is more than 0.8 seconds quicker than Cabello's winning time, and his time in the final would have being adjusted for his more severe level of disability.
"I had the time in me. I am in the absolute form of my life, there has not been a session in the last two weeks where I have not managed a personal best," Cundy added.
"I know I was in the shape to win gold.
"It is just a bike race, but it is probably the most important bike race I have ever raced in. No-one's died it just feels like they have."
Great Britain's Olympic team sprint member Phillip Hindes was quoted as saying that he deliberately crashed to prompt a restart before he, Jason Kenny and Sir Chris Hoy went on to win gold during qualifying in the velodrome.
Cundy said that the rules over the start needed to be clarified as "we have people decking it just to get a restart".