Paralympics 2012: Great Britain's mixed four win rowing gold
Last updated on .From the section Disability Sport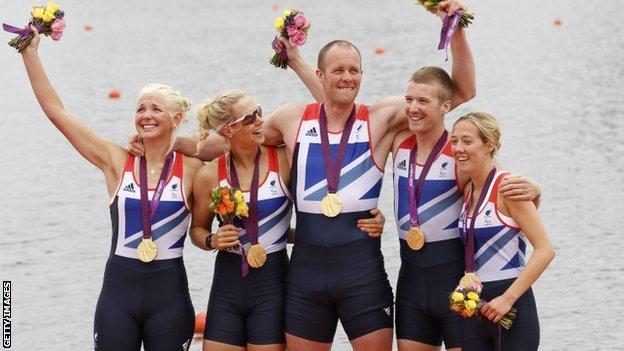 Britain's mixed coxed four won a superb gold to secure the only rowing medal for the host nation at Eton Dorney.
After two fourth-placed finishes for the other GB boats, David Smith, James Roe, Naomi Riches, Pam Relph and cox Lily van den Broecke provided a win.
Nick Beighton and Samantha Scowen finished fourth in the mixed double sculls after a photo-finish for bronze.
And defending champion Tom Aggar was also fourth in the single sculls, the first final of the day.
"It's incredible, absolutely incredible," Riches told BBC Radio 5 live after taking gold with the four.
"It's a life choice you make; you choose to be an athlete at this level and it isn't just a day job. I'm so happy to know that all the blood, sweat and tears, all the joy and pain, has been worth it for the last few minutes on the water."
Asked whether the failure of the other British boats to secure medals had affected them, she added: "We were focusing on our own bubble and warm-up, so we had no idea about what happened with the others."
Aggar had earlier suffered his first ever defeat as China's Cheng Huang dominated the final on the way to gold.
The Briton, who is paralysed from the waist down after an accident in 2005, had rarely been threatened since he first competed in the AS (arms and shoulders) single sculls, winning four world titles and Paralympic gold in Beijing.
However, the standard has risen dramatically in the last year and after breaking his own world record in the heats, Aggar then saw both Huang and Russia's Aleksey Chuvashev go quicker.
Huang led throughout Sunday's final and having spent much of the race trying to close him down, Aggar slipped out of the medals in the closing stages.
Australia's Erik Hollie finished strongly to win silver and Chuvashev took the bronze.
"I'm absolutely devastated," Aggar told 5 live. "The standard's really improved year on year and I've managed to stay ahead of that curve.
"I've been putting in PBs all year, but when I dug deep there was nothing there. You get new people coming in from other sports, which is great, and earlier in the year I've beaten all three of these guys."
While Aggar had been a strong gold-medal hope for Britain, Beighton and Scowen are a newer pairing and were agonisingly close to grabbing a medal.
Beighton is a former Army captain who trod on an improvised explosive device in Helmand in 2009 and needed 36 pints in blood transfusions to save his life.
Having mastered his prosthetic legs he was introduced to rowing during his rehabilitation and joined the British rowing team full-time in May, 2011, finishing sixth in the World Championships with rowing partner Scowen.