Paralympics 2012: Two golds & two silvers for GB equestrian team
Last updated on .From the section Disability Sport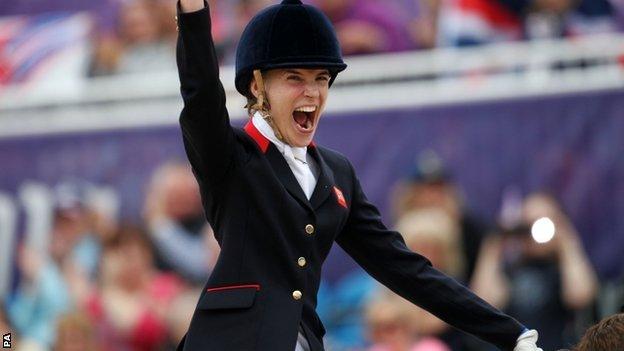 Great Britain won two golds and two silvers on a day that saw Lee Pearson secure his 10th Paralympic title.
Pearson had already completed his ride in the team event and his compatriots completed the job on Sunday.
Sophie Christiansen won gold in the individual dressage 1a grade with her horse Janeiro6.
Games debutant Sophie Wells and Pinocchio won Grade IV silver and Deborah Criddle on Akilles took second in the Grade III individual test.
Christiansen was the first to ride in the individual dressage 1a grade and her score of 82.750% was never under serious threat.
Helen Kearney of Ireland took silver with 76.700% on Mister Cool, and Laurentia Tan of Singapore finished with bronze after scoring 73.650%.
"I couldn't have asked for any more," sad Christiansen, who has cerebral palsy.
"Every time I ride 'Rio' it is just amazing. I went in today thinking of it as a training session - with just 10,000 people watching.
"As long as I stayed relaxed and focused on what I had done in training, I knew I could pull out an 80%-plus test."
It was later confirmed that Pearson, Criddle, Christiansen and Wells had done enough to win a fifth successive team title for Great Britain, ahead of Germany and Ireland, with a Paralympic record 468.817.
The result earns 38-year-old Pearson the 10th Paralympic gold of his career, 24 hours after he won individual silver, meaning he is now one short of the 11 golds won by Baroness Tanni Grey-Thompson and Dave Roberts.
"The record from Atlanta, and carrying the team torch on, we are all really, really proud," said Pearson.
"I know the scores suggest there was a big gap between gold and silver, but this has been the best team effort I have known on any team. We fought very, very hard.
"It has been hard work in the arena, but it has also been hard work with all the support staff making sure us and our horses were at our best. It has been a battle.
"I think this is the strongest team we've have ever had, but I also think it has been the toughest gold to get."
Wells, 22, earlier scored 76.323% but lost out on Grade IV gold to Belgium's Michele George, while the 46-year-old Criddle led for much of the Grade III competition with 71.267% but was beaten by penultimate rider Hannelore Brenner of Germany, who scored 74.133%.
Wells, who made an error midway through her test, said: "If I hadn't had the mistake it might have been a different story.
"I knew I would have to do the best test I had ever done, but the Paralympics is when everyone is at their best.
"You can't afford a mistake, but unfortunately I had one and I take complete responsibility for that."
Criddle said: "For the mistakes I made, it was a really good score.
"It happened, and I had to move on, so it was a case of getting him moving again and getting the swing back, which we managed to do, and we did some really good work."