Paralympics 2012: Discus 'winner' allowed to keep gold medal
Last updated on .From the section Disability Sport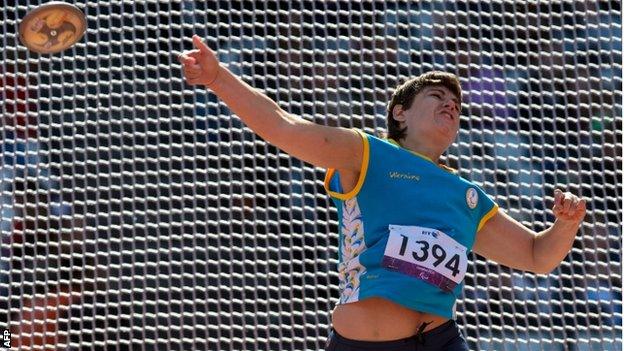 An athlete stripped of her Paralympic discus title after a scoring blunder will be allowed to keep her gold medal.
Bao Jiongyu dropped out of the medals, while Australia's Katherine Proudfoot was upgraded to third from fifth.
Organisers now say Pomazan can keep her unofficial gold medal, though it won't count towards Ukraine's official tally.
And China's Jiongyu will also be allowed to keep hold of her bronze medal.
Craig Spence, from the International Paralympic Commission (IPC), said the decision had been made to maintain "the spirit of fair play" as the athletes were competing against the scoreboard.
After originally handing out the medals on Friday, the ceremony for the revised winners was supposed to be held on Saturday before being postponed until Sunday.
In total, seven of the top 10 and all of the top five positions were changed.
Paralympic organisers said in a statement: "All combined class field events use a points scoring system where final positions are determined by points rather than distance.
"In the women's combined class discus event [F35/36], incorrect medals were awarded following the use of inaccurate results data. We sincerely apologise to the athletes affected.
"The inaccurate data also affected the men's shot put F42/44, although the final medal placing was not impacted."
Pomazan, 23, used her frustration over the discus to win the women's F35/36 shot put gold medal.
She threw 12.22 metres for 1062 points, six points ahead of China's Wang Jun, with China's Wu Qing getting the bronze.
"Psychologically that was very difficult after what happened the other day," Pomazan said.
"I was very, very angry. I didn't even know I could be that angry, so this brought very strong feelings for such a performance."