Paralympics 2012: Aled Sion Davies targets non-disabled Commonwealth Games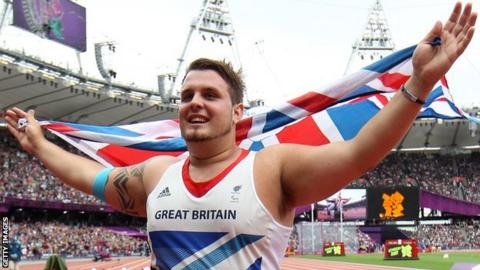 2012 Paralympics
Date:

Wednesday, 29 August to Sunday 9 September

Coverage:

Extensive daily coverage across 5 live, 5 live sports extra and the BBC Sport website
Aled Sion Davies wants to represent Wales as a non-disabled athlete after winning Paralympic F42 discus gold.
The 21-year-old amputee from Bridgend set a European record of 46.14 metres to win his second medal at London 2012, after bronze in the F42/44 shot put.
"I am going to be competing at Glasgow 2014 [Commonwealth Games] for my category," Davies said.
"But one day I'd like to aim for maybe an able-bodied event," he said, suggesting the 2018 Commonwealth Games.
South African sprinter Oscar Pistorius has already made headlines competing in both the 2012 Olympics and Paralympics and Davies believes he can also contest both.
"I'm an ambulant thrower, so I'm just the same as able-bodied," said Davies, who was born with talipese and hemi-hemilia of the right leg.
"I have pretty much the same technique, apart from I have a straight leg and I wear the brace, which is allowed, so I'll just have to throw able-bodied competition weight which is half-a-kilo heavier.
"I will be competing next year with that and we'll take it from there."
Davies followed fellow Welshman Mark Colbourne as Wales' second gold medallist at the Games and says winning his discus title was "surreal".
"It doesn't sound real. It's so surreal. I'm so chuffed," said Davies, who represented Wales at swimming in his youth before switching to field athletics.
"I mean, it just goes to show that four years' hard work pays off and I'm just so chuffed that I can give something back to everyone."
Davies saw off the challenge of Iran's Mehrdad Karam Zadeh at the Olympic Stadium with a best throw of 46.14m, a new European record.
Zadeh's best effort was 44.62m, giving the Welshman victory.
The Bridgend athlete had won shot put bronze on Friday, becoming GB's first athletics medallist in London.
Davies added: "I know coming in here I was in good form and I can break a lot of records.
"So I just wanted to come here and deliver my best… and I've done that and I'm so happy.
"I was very confident from the start. The Iranian went in, put out a big one and I thought 'okay, two can play that game'. I went in and I brought out a big one.
"He then thought 'hang on, this guy's here for business' - and that's where I was from.
"But fair play to him, he fought every round, producing lifetime best after lifetime best, which is incredible for an athlete at the pinnacle of his career.
"So I've got a lot of respect for him for that and he managed to pull out a big one in the sixth round, which really did scare me because I was very impressed.
"But it just wasn't quite enough. I thought 'to hell with it, I've won, don't care'.
"I relaxed and managed to pull out a European record and here we are now."
Davies described his lap of honour in front of an ecstatic home crowd as "the furthest I've ever run".
He added: "It was worth it. If I could I'd thank every single person in here because without them I wouldn't have had this support or been able to produce this kind of performance, so thank you everyone."
Davies, who delayed going to university to boost his Paralympic chances, told BBC Radio Wales: "I can't put it into words. I've worked so hard - you don't realise; four years, I've had to defer uni.
"I did two years without funding, with a part-time job, got funding in 2011, managed to work my butt off and then managed to be able to perform.
"So, oh don't you cry, because I'll start crying."