Paralympics 2012: Terry Bywater says crowd gives him goosebumps
By Terry Bywater
Four-time wheelchair basketball Paralympian
Last updated on .From the section Disability Sport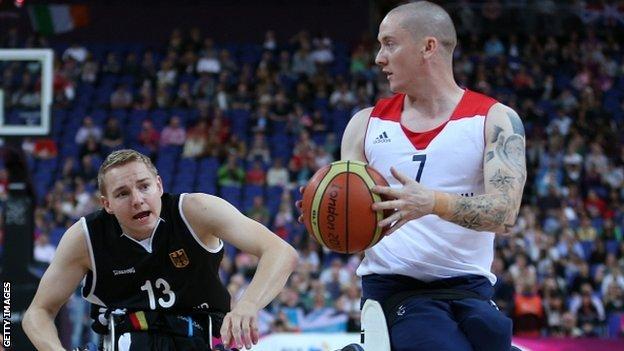 We're through to the quarter-finals!
Our 71-55 win against Japan was actually quite tough. We played really well in the first two quarters, but to keep that intensity up would have been hard for any team in the world.
We did play some really good stuff, though. We didn't try to try to take our feet off the gas after half-time, it's just the shots weren't dropping in as much.
Perhaps subconsciously, we were trying to conserve energy.
Anyway, it was another great win for us. It was our third after what was a very tough start, with defeats to Canada, the second best team in the world, and Germany, who we played in the European Championship final in 2011.
I found it difficult to sleep on the first two nights of competition following those opening defeats. I've had a room to myself, which has been good. It gave me space to think about things, stay level-headed and positive.
We recognised we let everybody down. We let the fans down, ParalympicsGB down, UK Sport and wheelchair basketball. There was a meeting following the defeats - I think everybody was shellshocked in the room. It made us realise where we were at.
But after those losses, we've now managed three wins. I think a key period in our recovery was the first 10 minutes against Colombia, when we showed our true British bulldog spirit.
Since then we've shown what this team is about - we pulled together. In the 12 years I've been part of the team, I've felt the strong spirit running through the guys. They really are a great bunch.
But let's not get carried away.
To have done what we've done so far is brilliant, but it doesn't mean anything yet. It's irrelevant.
I have to be frank, this is the toughest wheelchair basketball event I've been in. I truly believe one of eight teams can win a medal. We could go all the way or finish fifth, sixth or seventh.
But if we keep this level of basketball up, we will be hard to stop. I had a conversation with my team-mates after the Japan win, joking that we could have played our quarter-final match straight away. Unfortunately, we have to have this rest day.
I top-scored against Japan with 19 points. It feels like I'm shooting well - long may it continue. But frankly, I don't care who's getting the points, as long as we're winning.
But while I have a "hot hand", I'm going to try to keep it going. It feels like I'm peaking now, which is great after a long, long year with a broken wrist. It's nice to go out there and perform.
And finally, the crowd. What can you say?
They've been absolutely amazing and are making it the best Paralympics ever. To have home support like that when we are singing the national anthem has given me goosebumps. I'm living the dream right now.
Terry Bywater was speaking to BBC Sport's Saj Chowdhury