Paralympics 2012: GB Boccia team lose 18-1 to Thailand
Last updated on .From the section Disability Sport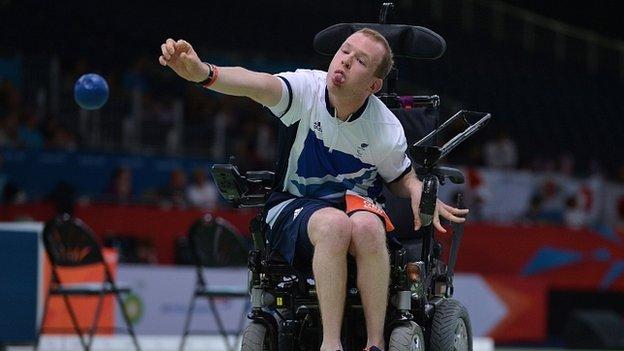 Great Britain's defence of the BC1/BC2 team Paralympic title came to an abrupt end as they were beaten 18-1 by Thailand in the Boccia semi-finals.
Nigel Murray, Daniel Bentley and David Smith shipped six unanswered points by the halfway mark.
Despite introducing Zoe Robinson into the action, the hosts could do nothing to rein in their runaway opponents.
There was no final place for British brothers Peter and Stephen McGuire either after they lost 3-2 to Brazil.
The brothers, silver medallists at the 2010 world championships, were level at 2-2 in the final six-throw end, but will have to settle for a bronze at best after Eilseu Dos Santos and Jose Pinto Dirceu grabbed a decisive point late on in their BC4 pairs clash.
Boccia is a sport of such fine margins.
Frequently the officials are on their knees wielding a schoolboy's foot-long ruler amid a huddle of closely-packed coloured balls to judge which has cosied up closest to the white jack.
It shouldn't work as a spectator sport and it takes a while to get your eye in at the windowless ExCeL.
With up to six courts simultaneously in play, as your attention settles on one match, cheers suddenly erupt from another corner and you are attempting to decipher what subtle change in the configuration of distant red and blue blobs has sparked delight.
But there is nothing like home interest to concentrate a British crowd on the nuances of a sport in 2012.
Bentley, Murray, Smith and Robinson, gold medal winners at 2008 Paralympics, all have cerebral palsy which hinders their motor skills.
Yet from the wheelchairs, they defy the condition with precisely-weighted throws of such deliberate delicacy that the white jack is soon mobbed by their efforts and obscured from spectators' view.
The tactics are similar to bowls with avenues of attack on the jack alternatively sealed off with a carefully positioned throw or blown open with an aggressive attempt to clear an opponent from the vicinity.
The British quartet chanced their finely-calibrated arms on one such gutsy move in the quarter-final, pulling it off to swat aside a stubborn Hong Kong team 11-3.
With the players mostly restricted to individual rectangular playing areas at one of at the end of the pitch, each with a slightly different perspective, constant chatter is key to building a complete picture of the play and a winning strategy.
Captain Nigel Murray, ranked number one in the world and individual silver medallist in Beijing, is at the heart of British discussions.
"You have to be patient, either hoping that your opponents miss or trying to think what they are going to do next," he told BBC Sport.
"Either that or start thinking about defending a position or weighing up taking some risk.
"We tend to be quite democratic but if we disagree between the three of us then I would maybe make the overall decision on what we do.
"If the other two were being really ludicrous then I would definitely say no!"
Tuesday's bronze medal match against Portugal, who they beat in the final in 2008, might be just the tonic to revive their sapped spirits.