Paralympics 2012: Great Britain athletes on Day Six
Last updated on .From the section Disability Sport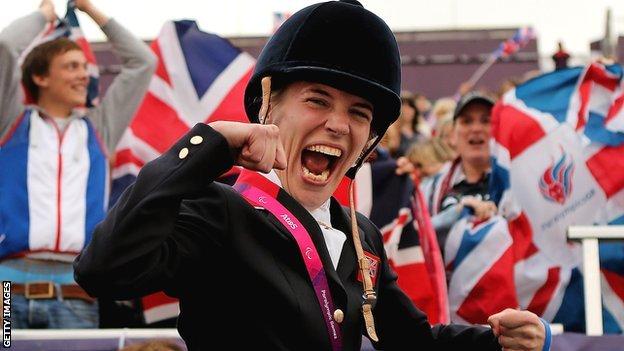 A sport-by-sport round-up of how ParalympicsGB athletes perform on Day Six of the 2012 Paralympic Games in London.
ARCHERY
GOLD & SILVER MEDAL - Danielle Brown wins 6-4 in the women's individual compound open final to take gold, with ParalympicsGB teammate Mel Clarke taking silver.
ATHLETICS
BRONZE MEDAL - Great Britain's women win bronze in the 4x100m T35/T38 finishing behind Russia and China.
GOLD MEDAL - David Weir claims his second gold medal of these Paralympics as he wins the men's 1500m T54 with a time of 3.12.09.
SILVER MEDAL - Paul Blake secures silver in the T36 400m final with a personal best of 54.22 seconds.
Daniel West throws a personal best of 11.37m in the F34 shot put final, but finishes seventh in the overall standings. Jonathan Adams finishes 14th with his best throw measured at 9.84m.
Jamie Carter comes eighth in the final of the men's 200m T34 in a time of 30.94.
Steve Morris finishes sixth in the men's 1500m T20 with a time of 4:02.50.
BRONZE MEDAL - David Devine wins bronze in the men's 1500m T13 with an English record of 3:49.79.
Sally Brown is through to the final of the women's 100m T46, qualifying in sixth place in a time of 13.67 seconds.
Tracy Hinton (with her guide Steffan Hughes) fails to make the final of the women's 100m T11, finishing seventh with a season best time of 13.43 seconds.
Beverley Jones finishes seventh in the final of the women's shot put F37 with a distance of 9.85m.
Shelly Woods (1:49.51), who won the women's wheelchair race at the 2012 London Marathon, and Tanni Grey-Thompson's prodigy Jade Jones (1:56.16) both fail to make it through to the women's T54 800m final.
BOCCIA
Peter and Stephen Maguire miss out on the bronze medal in the men's BC4 pairs, losing 8-2 against Canadian pair Marco Dispaltro and Josh vander Vies.
BRONZE MEDAL - Defending ParalympicGB champions Nigel Murray, Dan Bentley, David Smith and Zoe Robinson win bronze in the BC1/BC2 Boccia, overcoming Portugal 7-5.
EQUESTRIAN DRESSAGE
GOLD MEDAL - Sophie Christiansen grabs gold in the grade Ia individual freestyle test on her horse Janeiro 6 with a score of 84.750 and becomes the first Briton to win three golds at a single Paralympic Games.
SILVER MEDAL - Deborah Criddle claims silver in the grade 3 freestyle Dressage test in Greenwich. Riding LJT Akilles, her total of 78.550% was behind German Rider Hannelore Brenner's score of 81.700%.
SILVER MEDAL - Sophie Wells, who also won silver in the individual championship test on Sunday, wins silver in the individual freestyle test grade IV on her horse Pinocchio (81.150%).
FOOTBALL - 5-A-SIDE
ParalympicsGB lose their final Pool A match 1-0 to Iran, meaning the home side's medal hopes are over.
GOALBALL
ParalympicsGB women had already qualified for the quarter-finals and continue their fine form with a 5-0 group C victory over Denmark.
SAILING
John Robertson, Hannah Stodel and Stephen Thomas finish sixth in race seven of the three-person keelboat (sonar) division, leaving them sixth in the overall rankings.
Helena Lucas finishes first in race seven and fourth in race eight in the single-person keelboat (2.4mR) division, leaving her first in the overall standings.
Alexandra Rickham and Niki Birrell finish fourth in race seven and second in race eight of the two-person keelboat (SKUD18) division leaving them third in the overall rankings.
SHOOTING
BRONZE MEDAL - Matt Skelhon adds to his medal tally at London 2012 with bronze in the mixed R6-50m Rifle prone SH1. Fellow ParalympicGB shooters Karen Butler and Benjamin Jesson finish in 23rd and 47th respectively.
SITTING VOLLEYBALL
ParalympicsGB lose their classification match 3-0 to Brazil.
SWIMMING
Susannah Rodgers finishes less than a second outside of the medals in the final of the women's 50m freestyle S7, coming fourth with a time of 34.08 seconds.
BRONZE MEDAL - Matt Walker picks up his twelfth Paralympic medal by winning bronze in the men's 50m freestyle S7, with a time of 28.47. JonFox and Josef Craig finish sixth (28.87) and seventh (29.39) respectively.
Hannah Russell comes sixth in the final of the women's 100m freestyle S12 with a time of 1:02.38. Russell won silver and bronze medals in her first two events at London 2012.
James Clegg finishes eighth in the final of the men's 100m freestyle S12 in a time of 55.94 seconds.
SILVER MEDAL - Stephanie Millward secures silver in the women's 400m freestyle S9 with a European record time of 4:40.01. 14-year-old Amy Marren finishes fourth (4:50.79) in the final with Lauren Steadman coming sixth (4:55.17).
James Crisp, finishes eighth in the final of the men's 400m freestyle S9, in a time of 4:26.61.
BRONZE MEDAL - Ellie Simmonds grabs a bronze after a fantastic burst of speed in the last few metres of her women's 50m freestyle final, finishing with a time of 36.11 seconds. Earlier, team mate Natalie Jones had missed out on a place in the final.
GOLD MEDAL - Heather Frederiksen successfully defends her women's 100m backstroke S8 title by taking gold with a time of 1:17.00.
BRONZE MEDAL - Ollie Hynd wins bronze in the men's 100m backstroke S8 in 1:08.35 to add to his earlier silver in the 400m freestyle. Tom Young and Sean Fraser finish fourth (1:08.91) and fifth (1:09.67) respectively.
James Hollis and British record holder Jack Bridge fail to make the finals of the men's 100m backstroke S10, finishing 13th (1:06.40) and 16th (1:09.38) in qualifying.
Sascha Kindred and Matt Whorwood fail to make the final of the men's 50m freestyle S6, finishing 10th (33.36 seconds) and 13th (33.91 seconds) respectively in qualifying.
WHEELCHAIR BASKETBALL
ParalympicsGB lose an entertaining quarter-final clash 55-44 to Germany.
WHEELCHAIR FENCING
Justine Moore fails to qualify for the women's class B foil quarter-finals losing 5-2 to Jingjing Zhou and 5-4 against Iryna Lukianenko.
WHEELCHAIR TENNIS
Jordanne Whiley and Lucy Shuker beat their German opponents 6-3 6-3 in their women's doubles quarter-final.
Dave Phillipson is beaten 6-0 6-2 by Japanese opponent Shingo Kunieda in his men's singles round of 16 clash.
Peter Norfolk is beaten 3-6 7-5 6-0 by Israel's Shraga Weinberg in the quad singles quarter-final.