London 2012 Paralympics: Controversy and confusion
By Sam Sheringham and Tom Burrows
BBC Sport
Last updated on .From the section Disability Sport54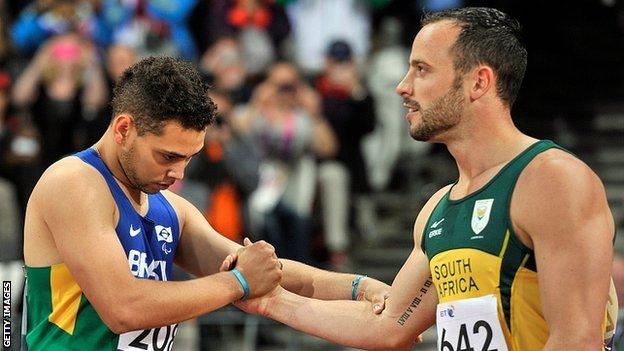 Oscar Pistorius's claim that his Paralympic 200m defeat was not a fair race because of the length of his rival's blades has thrown the debate over how athletes are classified into the mainstream.
The systems used to categorise competitors according to their level of disability is fundamental to levelling the Paralympic playing field but it can also lead to controversy and confusion.
Why did Great Britain's Stef Reid take silver in the long jump despite jumping almost a metre further than her closest rival? Why was US swimming star Mallory Weggemann's classification altered on the eve of the Games?
Four-time Paralympic swimming champion Marc Woods has claimed that the sport's classification system is "the major stumbling block on credibility".
Taking the examples of athletics and swimming, the only sports featuring all disability groups, BBC Sport takes a closer look at the classification systems and asks the experts what needs to change for Rio 2016.
ATHLETICS
What classifications are there? All disability groups can compete in athletics but they are classified by a system of letters and numbers, with T meaning track and F meaning field. Categories 11-13 cover degrees of visual impairment, 20 is intellectual disability and 31-38 are for people with cerebral palsy or other conditions that affect muscle co-ordination and control. The 40 numbers are for amputees and the fifties cover athletes in wheelchairs.
How are they decided? Eye tests and IQ tests are used to determine the degree of an athlete's visual impairment or learning disability. Other athletes are subjected to medical, visual or cognitive testing by an international classification panel and are observed during the Games. The classification can be challenged, either by the athlete themselves or by rivals who believe an opponent is taking part in the wrong class.
London 2012 controversies: Pistorius responded to his shock defeat by Brazilian Alan Oliveira in the T44 200m final by criticising the International Paralympic Committee (IPC) for allowing his rival to run with significantly longer blades. The IPC said Oliveira's blades were within the rules, but is believed to be reviewing the regulations for Rio 2016 as well as ensuring that double amputees such as Pistorius are not running against single amputees.
Reid had to settle for long jump silver because her event grouped athletes from two different categories, with a points system used to rank their jumps. So although Reid, who has one leg amputated below the knee outjumped Australia's Kelly Cartwright, a below the knee amputee, Cartwright took the gold due to a higher overall score. "It's obviously quite a controversial area and it is really disappointing that they chose to combine the events on a points system," said Reid.
What needs to change? "You can see why Oscar's event is there and the 5,000m wheelchair event, but some of the others are weaker and developing," says eleven-time Paralympic gold medallist Baroness Tanni Grey Thompson. "I don't think the Paralympics is the place for developing, you have the Europeans and Worlds for that. It wouldn't do the Paralympics any harm for the programme to be lighter.
"On classification, you have to trust that independent international classifiers have people in the right group. There needs to be much more money invested into classifying people away from the Paralympics. Have them watching athletes in competition and in training. I'd like to see more recently retired athletes involved in the process."
SWIMMING
What classifications are there? Swimming is one of the few Paralympic sports that combines different types of disability in the same events, meaning Ellie Simmonds, who has dwarfism, can compete in the S6 class with her fellow Briton Natalie Jones, who has cerebral palsy. Swimmers with physical disabilities are categorised from one to 10, the lower the number the more severe the disability. Numbers 11-13 cover visual impairments and 14 is allocated to swimmers with an intellectual disability. The prefix S denotes freestyle, backstroke and butterfly, SB means breaststroke and SM individual medley.
How are they decided? Swimmers are subjected to a "bench test" and a "water test" before being observed during competition. In the bench test, three certified classifiers test the swimmer's every possible range of motion on an athletics training table. In the water, the swimmer will perform all four strokes and a series of other exercises before their classification is determined.
London 2012 controversies: US swimming star Mallory Weggemann raged that she had "lost faith" in the Paralympics system after having her classification altered on the eve of the Games. Weggemann was moved to a category for less severely disabled athletes after evidence was presented to the IPC showing she was not in the correct class.
Weggemann's fellow American Victoria Arlen was initially denied the chance to compete against Ellie Simmonds in London after it was decided her disability was not severe enough, only for the decision to be overturned on appeal.
Are there too many categories? "The classifications is the major stumbling point that we have on credibility which needs sorting out," says Marc Woods, who won 12 swimming medals across five Paralympic Games.
"Once you've sorted that then we can look at considering whether we consolidate certain things and lose some races or amalgamate some groups that are quite comparable. There are some which look like they could be merged, but the Paralympics are about offering international high-level opportunities for people with disabilities and banding is how we do it.
"If you start cutting events then it would be very difficult to start getting them back in because people train for them and if they stop the standards would just get lower."