Bronze medallist Ben Quilter reveals Paralympic doubts
Last updated on .From the section Disability Sport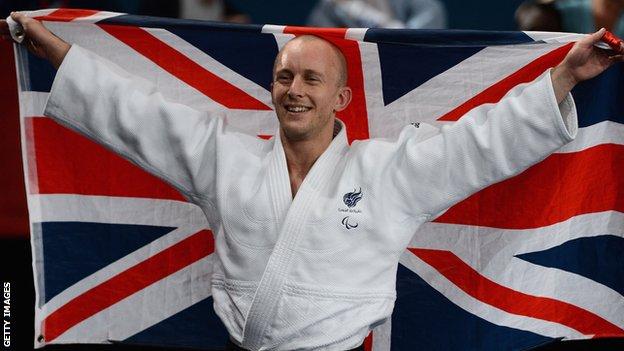 Visually impaired judoka Ben Quilter says he did not know whether he would be competitive at the Paralympics.
He told BBC Sussex: "I hadn't really tested out what I was capable of or what techniques I'd be able to do.
"I'd only been on the mat for two weeks before the Games because it was too painful. It was a fine line the whole way and luckily we got it right."
The world and European champion snapped the cruciate ligament and severely ruptured the medial ligaments in his left knee just seven weeks before competing in London.
Quilter, who is from Brighton and trains in Dartford, lost his opening bout to defending champion Mouloud Noura but went on to win a medal via the repechage.
"I was coming to the Games for a gold medal before that injury. On the day it was a case of 'suck it and see'," he added.
"I had a tough match first which was probably not to my advantage.
"I was trying to work out what I could and couldn't do, deal with the pressure from the crowd and the enormity of the whole thing.
"On the day, it was all a bit much.
"Keeping it all together going into a major tournament, with the pressure, a major injury and not knowing whether I could perform or not, was difficult."