Paralympics 2012: Rower Tom Aggar accepts first defeat
Last updated on .From the section Disability Sport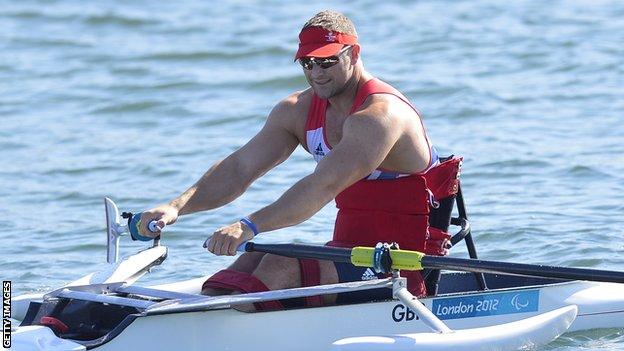 Rower Tom Aggar says he has come to accept losing his Paralympic title, which was also his first defeat in international competition.
The 28-year-old Londoner finished fourth in the ASM1 single sculls final.
He told BBC London 94.9: "I was definitely on a bit of a downer as it was a tough result to accept. I've kind of come to terms with it.
"I didn't have it on the day unfortunately. Reflecting back, would I change anything? Probably not."
Aggar, who won gold on his Paralympic debut in Beijing four years ago, says the standard of competition has increased in recent years.
"I knew it was going to be tough going into the final because of the heats times," he added.
"It as a case of going out hard and seeing if you had enough to see it through.
"I changed my race plan a little bit. The Chinese [Cheng Huang] flew out of the blocks and his time for the first quarter of the race was super-quick.
"I went out to try and get ahead, get a lead and I guess control the race from the front.
"I was there until halfway but I didn't have it in the second half. The result is what it is.
Aggar, who lives in Maidenhead and trains in Caversham, admitted last month that he was not certain to win a Paralympic medal despite going unbeaten since 2007.
"Everyone thought I'd come along and pick up the gold medal," he said.
"I never was the person to rest on my laurels and assume I would win every single race.
"There are fast guys out there now. Throughout the four years [since Beijing] I knew it would be tough in London, which is why I really pushed myself so hard.
"Everyone really stepped up their game and unfortunately I wasn't able to."
The four-time world champion is content with his preparations for the London Games but he has not yet decided whether to continue competing until Rio de Janeiro in 2016.
"I look back with some fond memories because I'm really proud of what I achieved over the last four or five years," Aggar continued.
"I wouldn't have changed any of it.
"I have satisfaction knowing that I prepared the best way I could and deep down in my heart of hearts I know I gave it my all.
"A lot of people are asking me if I will do Rio and they assume you can just make a decision to go.
"It's such an intense four years but I think I am still committed to do more.
"In some ways it [defeat in London] will hopefully give me some extra strength to come back fighting and come back with something to prove to everyone and myself."