Alex Zanardi wins Paralympics 2012 handcycling gold
By Mike Henson
BBC Sport at Brands Hatch
Last updated on .From the section Disability Sport106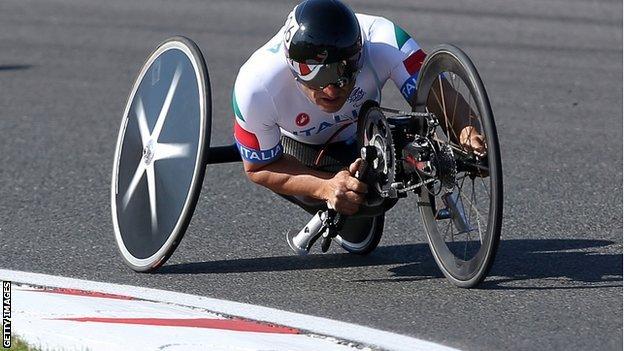 Italian ex-Formula 1 driver Alex Zanardi, who lost both legs following a crash in 2001, has won Paralympic gold.
Competing in the H4 handcycling time trial, the 45-year-old beat Germany's Nobert Mosandl by more than 27 seconds at Brands Hatch.
Zanardi had both legs amputated following a near-fatal Champ Car accident at Germany's Lausitzring.
Last year he won the New York marathon at the fourth attempt and also claimed world time-trial silver.
"This is a great accomplishment, one of the greatest of my life," Zanardi said of his victory.
"I worked very hard to get here. It was great to live such an experience at 45. This moment also brings a little bit of sadness for an adventure the last two years.
"When you are 20, you appreciate medals. When you are 40, you appreciate what you do every day.
"I enjoyed every day of training. I've had a magical adventure and this is a fantastic conclusion."
It is the third time Zanardi has been on the podium at the Kent circuit, each time in very different circumstances.
In 1991, as a 24-year-old with his sights trained on Formula 1, he secured second place in a Formula 3000 race for the Il Barone Rampante team around the track.
After losing his legs, he returned in 2008 to take third place in a specially adapted car as part of an Italian-Spanish team that finished third in the World Touring Car Championship.
Before Wednesday's race, it had become clear that a handcycle might finally be the vehicle to finally take him to the top step.
Even before dedicating himself fully to the sport, Zanardi finished 15th in the 2009 World Championships time trial.
His subsequent commitment bore fruit with a second-placed finish at the 2011 Worlds and victory over the previously dominant American Oscar Sanchez in the first race of the 2012 World Cup in Rome.
The undulating nature of the Brands Hatch circuit was also in Zanardi's favour, with uphill sections favouring double amputees such as himself.
In sunny but windy conditions he duly built a lead of 14 seconds over Mosandl after the first of the two laps and, in a perfectly paced race, had almost doubled that margin as he crossed the finish line.
Zanardi's triumph is especially impressive after the personal disaster that befell him 11 years ago.
After a Formula 1 career that comprised 41 races but little success, he had returned to the Champ Car series in which he had previously won two titles.
Attempting to rejoin the race at the Lausitzring, he lost control, skidding into the path of Canadian driver Alex Tagliani who could not avoid slamming into the side of the Italian's car at more than 200mph.
After losing three-quarters of his blood en route to the hospital, Zanardi defied paramedics' fears by surviving.
And he might be about to confound expectations once again.
Zanardi warned before Wednesday's race that his age might mean London 2012 would be both his first and last Paralympics.
But with Mosandl six years his senior and his closest challenger, Zanardi could yet defend his title in Brazil - the county where, in taking sixth in the 1993 Grand Prix, he achieved his best Formula 1 finish.