Paralympics 2012: Britain's Helena Lucas wins sailing gold
Last updated on .From the section Disability Sport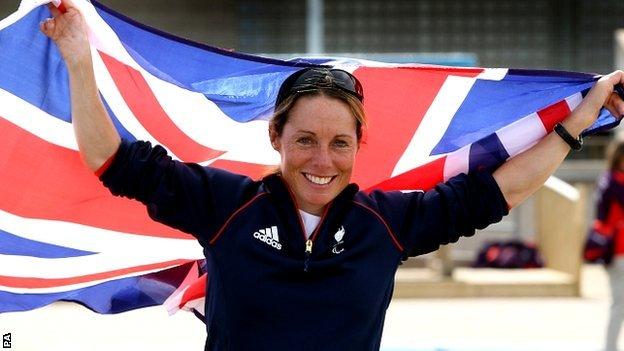 Helena Lucas took gold and Alexandra Rickham and Niki Birrell bronze as Britain won its first ever Paralympic sailing medals in Weymouth.
Light winds saw the final day's sailing cancelled, leaving Lucas first in the 2.4mR class and Rickham and Birrell third in the Skud.
Britain's Sonar crew finished fifth after they were penalised for an "off-the-water situation".
Lucas finished nine points ahead of Germany's Heiko Kroger.
The 37-year-old - the only woman in the fleet - was born with defects in both thumbs and is a three time World Championship bronze medallist in the 2.4mR class, a Paralympic event in a single-handed small keelboat.
"There is a great sense of relief to finally fulfil my dream of winning a gold medal, but I think it will only sink in when I stand on that podium," Lucas, who finished seventh in Beijing four years ago, told BBC Radio 5 live.
"It is an 11-race regatta with one discard, but it was flat calm out there today so unfortunately there was no racing, but I got the gold medal."
Asked about Britain's long wait for a Paralympic sailing medal, she added: "It has taken us a while to find our stride but we have such great support behind us from the RYA (Royal Yachting Association). They just treat us as the 13th class and we have all the same access to the same training.
"Beijing was a massive disappointment to us and we were all fairly new to it and made the same kind of mistakes, but we learned from those lessons and to come away with two medals is fantastic."
Rickham, 30, is a tetraplegic following a diving accident in Jamaica in 1995, while Birrell, 26, was born with cerebral palsy. The pair finished fifth in Beijing as a new Skud pairing and went on to win four world titles in succession.
"Clearly I am going to be a bit disappointed and gutted by how things have gone this week," said Rickham.
"I didn't want to go back to London to see the rest of ParalympicsGB without a medal. Last time it was absolutely the most painful thing I've ever had to experience, going back to Beijing from Qingdao, and being one of the only ones without one.
"We've ticked that box, but it is unfortunate that at a home Games we couldn't come away with a medal of the colour we wanted."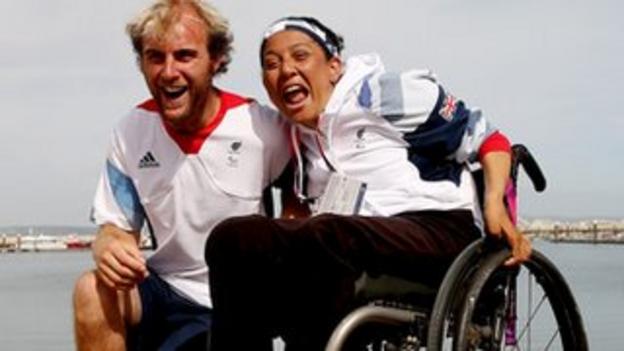 Birrell added: "We're going to go to the Olympic Village with a Paralympic medal that means Alex and I will have medalled at every single Skud event on the planet. That's a great achievement over four years."
The Sonar crew of John Robertson, Hannah Stodel and Steve Thomas were in bronze-medal position until they picked up a penalty when a team member cleaned the boat's underside without authorisation.
They had been just one point behind second-placed Germany before receiving a four-point penalty, which moved them down to fifth place and three points outside the medals. An appeal against the decision was rejected.
The team bosun [in charge of equipment], Simon Hiscocks, had been authorised to lift the GB Sonar out of the water after Tuesday's racing to inspect and repair some minor damage, but a 30% discretionary penalty was imposed after the official 'measurer' said he had not been authorised to clean the keel [fin on the underside of the boat that provides stability].
"I fully regret that my actions have led to this situation and apologise again to the measurer for any perceived disrespect shown while I was completing the repair on the Sonar," said Hiscocks.
"I believe the task I was undertaking was part of the authorised repair, but clearly misunderstood the instructions of the measurer and in hindsight appreciate that my actions were inappropriate and deeply regret the impact it has had thus far on the Sonar crew."
ParalympicsGB said: "The GB team is hugely disappointed that the medals at a Paralympic sailing event could be determined in this manner for such a minor off-the-water transgression and therefore we will continue to investigate what options are available to rectify this situation to try to ensure the medals at these Paralympic Games are determined by the talents of the athletes on the water."
A British team did win a sailing gold at Atlanta in 1996, but the sport was included on a demonstration basis only, and therefore does not count in the official records.