Natalia Partyka eyes Olympic medal to add to Paralympic golds
By Seth Bennett
BBC World Service
Last updated on .From the section Disability Sport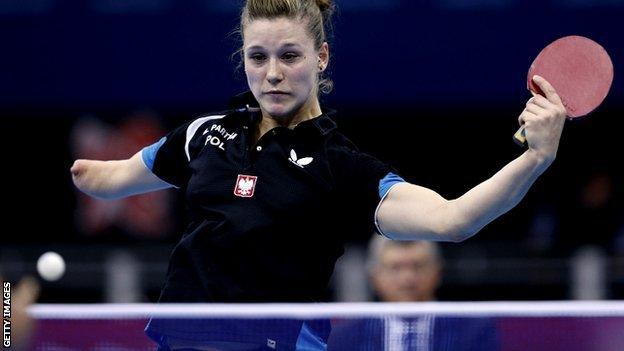 Poland's Natalia Partyka is taking part in her fourth Paralympic Games, having also competed in two Olympic Games - all by the age of just 23.
With a third gold secured in the women's class 10 table tennis, Partyka is building an impressive Paralympic legacy.
Born without her right forearm, she very quickly found the sport of table tennis and made her Paralympic debut at the Sydney Games in 2000, aged just 11.
That was the last time she lost a singles match in the Paralympics, going on to win gold in Athens and again, four years later, in Beijing.
She is part of an elite group of Paralympians who have also competed at the Olympics. At the 2012 Games, only South African track athlete Oscar Pistorius shares the achievement.
"Just me and Oscar are playing in both the Olympics and Paralympics, but I would like that in Rio there are more competing in both," said Partyka.
"We are showing that it is possible to compete at both, so maybe by Rio there will be more disabled athletes competing. Why not?"
For Partyka, competing in both Games brings different problems. At the Olympics she was beaten by Dutch player Li Jie, but says she felt no pressure.
Just a month later in the same venue, it was a very different story.
"I am so happy that I won - it wasn't easy to play here because there was so much pressure.
"Everyone expected me to win easily but my opponents are much stronger than they were four years ago, so the final was really difficult for me and I can breathe deeply because I have reached my goal."
Now a full-time professional on the table tennis tour, Partyka is ranked 56th in the world.
"It is still important that I am the best player in the Paralympics, but maybe I am more focused on the professional table tennis with the Olympics and playing with able-bodied players."
That is not, however, at the expense of being a trailblazer for disabled athletes who would like to follow the route that she, Pistorius and South African swimmer Natalie du Toit - who competed at the Beijing Olympics - have taken.
"The Paralympics is important to me and it means a lot that I am still one of the best players in the world," she said.
So what does the 23-year-old veteran of four Paralympic Games see in her future?
"In Rio, I would like to play again in both, but still I have one dream and I am dreaming about an Olympic medal.
"I have already a Paralympic medal and I would like to win an Olympic, and then I would be very satisfied. I don't know if it is out of reach but I know I want to try to win at both."
Partyka smiles. She may not receive the adulation and exposure that has enabled Pistorius to become a worldwide household name and a sporting icon.
She instead goes quietly about her business of climbing the world rankings and making her way in the table tennis world.