Paralympics 2012: Performance boss hails equestrian results
Last updated on .From the section Disability Sport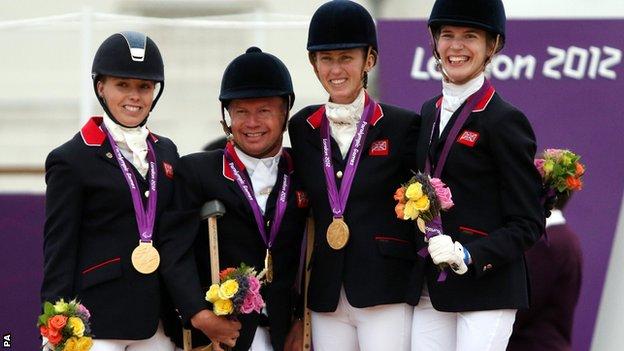 The performance manager of Great Britain's Paralympics equestrian team says a "fantastic" team effort saw them collect a record 11 medals.
Between them, Sophie Christiansen, Deborah Criddle, Sophie Wells, Natasha Baker and Lee Pearson won five golds, five silvers and a bronze.
"I had personal high expectations and they have exceeded them," David Hunter told BBC Sport.
"They, their horses and the support team have done an amazing job."
He added: "The two girls [Wells and Baker] who'd never been to a Games before have shone, those who'd been to other Games have shone, the whole thing has been a great success.
"And on the back of the success at the Olympics puts equestrianism and dressage right at the top of the national sporting tree and will hopefully mean that other people who might not have thought of sitting on a horse might give it a whirl."
Christiansen, 24, led the way with a clean sweep of three golds, rounded off with victory in the freestyle dressage Grade 1a test when she scored 84.750% on Janeiro 6.
"This was her third Games and there's a mature head and mind on those relatively young shoulders," said Norfolk-based Hunter, who is also clerk of the course at Fakenham Racecourse.
"She came to the Games with a horse she only started riding less than a year ago and achieved personal bests all the way round - and for the first time in each of her three events plus 80& scores, and quite rightly so."
Pearson, 38, was also aiming for triple success, having won three golds at each of the three previous Paralympics in Sydney, Athens and Beijing, but had to settle for one of each colour.
Hunter, however, said Pearson's results were indicative of the growing strength of competition around the world.
"This is sport, it isn't easy to maintain that number one slot and it shows that the sport is progressing and that other nations and other riders are progressing and achieving the same high standards," he added.
"But that is fantastic for the sport, creating a really exciting atmosphere in all of the grade tests here and it's testament to Lee and his character that although he might not have achieved personally what he was hoping to have done, he has got medals. I'm very proud of him as well."