Sarah Storey secures her place in GB Paralympic history
By Mike Henson
BBC Sport at the Olympic Park
Last updated on .From the section Disability Sport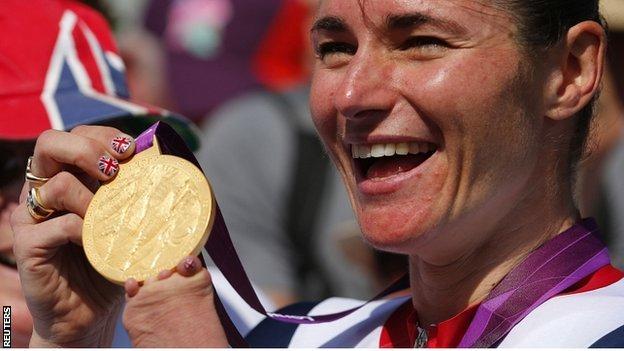 As she left the rest of the road race field strung out far behind her in the C4-5 road race at Brands Hatch, Sarah Storey finally caught up with two former British team-mates.
The 34-year-old's 11th Paralympic gold medal, and 22nd overall, pulled her level with legendary wheelchair athlete Baroness Grey-Thompson and swimmer Dave Roberts in terms of career titles.
In completing a clean sweep of her four events at London 2012 - she also won the road time trial, the 500m time trial and the individual pursuit - Storey ensured her face will appear in tomorrow's newspapers just as her name was added alongside Roberts and Grey-Thompson in the record books of the modern Paralympics.
Storey is still five golds short of the 16 won by compatriot Mike Kenny before the start of the modern Paralympics.
Amid Storey's glory, spare a thought for Anna Harkowska.
The 32-year-old Pole is a fine athlete in her own right but she has had to endure a thrashing three times on her way to silver medals in London.
In the final of the C5 Pursuit, an event that can be decided by hundredths of a second, Storey made up the 125m separating their start positions to pass the Pole after just over half of the 3km course.
Six days later, Harkowska finished a minute clear of everybody except Storey in the time trial out on the road. Storey mercilessly powered her way around Brands Hatch another minute and 34 seconds quicker.
Harkowska was a distant seven minutes back as she again finished in second place behind the dominant Storey.
Harkowska could be forgiven for having similar thoughts to those Storey herself voiced when she first took up cycling.
"I was a bit dubious on whether I was even a classifiable athlete," recalled Storey of her switch to cycling in 2005.
"What's one hand missing when you're on a bike?"
Being born without a functioning left hand was a more obvious hindrance in Storey's previous career as a swimmer.
But after winning a pair of golds in the pool as a 14-year-old at the Barcelona Paralympics in 1992, she enjoyed a string of successes over the next three Games.
By the time a chronic ear infection left her unable to continue in the pool in 2005, she had amassed a total of 16 Paralympic medals including five golds.
As she investigated where to turn next in her sporting career, Storey had to be convinced that the contribution from her upper body when riding a bicycle was enough to justify classification as a disabled athlete.
Once persuaded, she proved a world-class cyclist both inside and outside disability sport.
Her two golds at the 2008 Paralympics included victory in the individual pursuit in a time that would have placed her in the top eight of the Olympics of that year.
She competed against non-disabled athletes for the first time at the 2010 Commonwealth Games and won team pursuit golds for Britain at the 2011 Track World Cup events in Manchester and Cali, Colombia.
But her hopes of becoming the first athlete to represent Great Britain at the Paralympics and Olympics ended at baggage reclaim at Manchester Airport in December.
Informed on her return from Colombia that Laura Trott, Joanna Rowsell, Dani King and Wendy Houvenaghel would fight it out for the three Olympic spots without her, Storey released a typically no-nonsense statement on her website.
"I have always said that London 2012 is about riding as many events as I am good enough for and so now it is important for me to concentrate on the other events," she wrote.
Her exclusion may have allowed her to focus on the Paralympics, but one piece of Olympics news caught her attention during her preparations.
The UCI, cycling's governing body, has decided to increase the women's team pursuit event from three to four riders for the 2016 Olympics.
Even if Olympic champions and world record holders Trott, King and Rowsell all retain their places in the team pursuit over the next four years, there will be a vacancy to be filled in their set-up.
New landmarks, at the heights of both disabled and non-disabled sport, may still await Storey in Rio.