Paralympics 2012: Great Britain athletes on Day Nine
Last updated on .From the section Disability Sport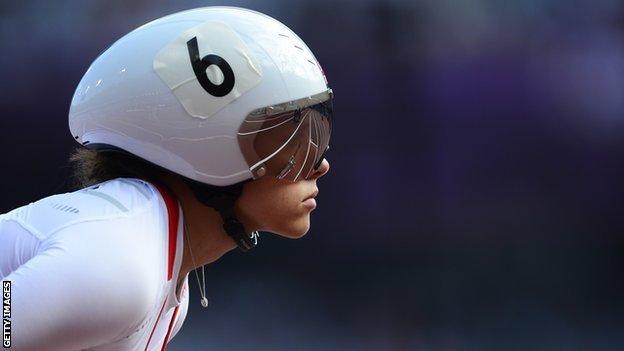 A sport-by-sport round-up of how ParalympicsGB athletes perform on Day Nine of the 2012 Paralympic Games in London.
ATHLETICS
Richard Whitehead finishes seventh in the final of the men's 100m T42 in a time of 12.99 seconds.
Shelly Woods (3:37.97) finishes sixth and Jade Jones (3:39.03) finishes tenth in the final of the women's T54 1500m.
Despite setting an English record of 29.05m, Kieran Tscherniawsky finishes tenth in the men's discus throw F32/33/34 division.
Mickey Bushell, who won gold in the 100m, comes fourth in the final of the men's 200m T53 with an English record of 26.32 seconds.
Sophia Warner finishes fourth in the women's 100m T35 with a time of 16.90 seconds.
Kyron Duke misses out on a medal in the men's javelin F40 final, finishing in eighth with a personal best mark of 38.64m.
Scott Moorhouse finishes seventh in the men's javelin F42 final, throwing a season best 45.30m.
GOLD MEDAL - Josie Pearson wins gold in the women's discus F51/52/53, throwing a world record 6.58m (1122 points) in the third round.
BOCCIA
Stephen McGuire loses his mixed individual BC4 semi-final 12-0 to his Chinese opponent.
David Smith is through to the individual BC1 final after winning his semi-final tie 5-2 against Norway's Roger Aandalen.
Peter McGuire loses on a tie-break in his play-off against Wai Yan Lau of Hong Kong to finish eighth in the BC4 class.
Nigel Murray finishes seventh in the BC2 class, overcoming South Korea's Jeong-Min Sohn 7-2 in his classification play-off.
CYCLING ROAD
BRONZE MEDAL - Rachel Morris, after dislocating her shoulder in a car accident last year, wins bronze in the women's individual H 1-3 road race in a time of 1:43:08, with fellow ParalympicsGB rider Karen Darke narrowly missing out on a medal in fourth 1:43:08.
FOOTBALL 7-A-SIDE
ParalympicsGB men lose 4-3 against Argentina and will go into the play-off for 7th/8th place.
SITTING VOLLEYBALL
ParalympicsGB lose their men's classification match 3-0 to China and finish eighth in the competition.
SWIMMING
SILVER MEDAL - Heather Frederiksen, Claire Cashmore, Stephanie Millward and Louise Watkin grab silver in a thrilling 4x100m 34 points medley relay. They finished just three hundredths of a second behind Australia's quartet.
Rhiannon Henry comes fourth in the women's 200m individual medley S13 final in a time of 2:32.84.
Hannah Russell finishes fourth in the final of the women's 50m freestyle S12, with a time of 28.07 seconds.
James Clegg, who won a bronze medal in the 100m butterfly S12, finishes sixth in the final of the 50m freestyle S12 with a time of 25.20 seconds.
Andrew Mullen finishes fourth inthe final of the men's 50m butterfly S5 with a time of 40.04 seconds. Anthony Stephens earlier missed out on the final.
Sascha Kindred, swimming in what is likely to be his last individual race, was disqualified in the final of the men's 50m butterfly S6. Kindred speculated after the race that the disqualification was related to his leg action.
Louise Watkin (1:04.45) and Lauren Steadman (1:06.07) finish fifth and eighth in the final of the women's 100m freestyle. Claire Cashmore had earlier missed out on a place in the final.
James Anderson misses out on a place in the men's 50m freestyle S2 final, finishing 10th in qualifying (1:10.61).
James Crisp fails to make the final of the men's 100m freestyle SM9, finishing 17th in qualifying (1:00.76).
Natalie Jones misses out on the final of the women's 50m butterfly S6, finishing 10th in the field of 15 (41.97 seconds).
TABLE TENNIS
BRONZE MEDAL - Jane Campbell and Sara Head take bronze by beating their Italian rivals 3-2 in a five set thriller which lasted almost three hours.
BRONZE MEDAL - Ross Wilson and Will Bayley claim bronze by beating German pair Jochen Wollmert and Thorsten Schwinn 3-0 in their class 6-8 bronze medal clash.
WHEELCHAIR BASKETBALL
ParalympicsGB women finish their London 2012 campaign in seventh place, one place better than in Beijing, overcoming Mexico 59-37 in their classification match.
WHEELCHAIR FENCING
ParalympicsGB women, Gemma Collins, Justine Moore and Gabby Down lose 45-26 in their open team quarter-final against Hong Kong, and finish eighth in the competition after losing their classification play-off 45-33 to France.
WHEELCHAIR RUGBY
ParalympicsGB lose their group A match 51-39 to Japan, meaning the home team's chance of a medal at London 2012 is over.
WHEELCHAIR TENNIS
BRONZE MEDAL - Jordanne Whiley and Lucy Shuker claim bronze in the women's doubles after beating their Thai opponents 6-7 7-6 6-3.