Heather Frederiksen and Louise Watkin split from coach and club
By Nick Hope
BBC Olympic sports reporter
Last updated on .From the section Disability Sport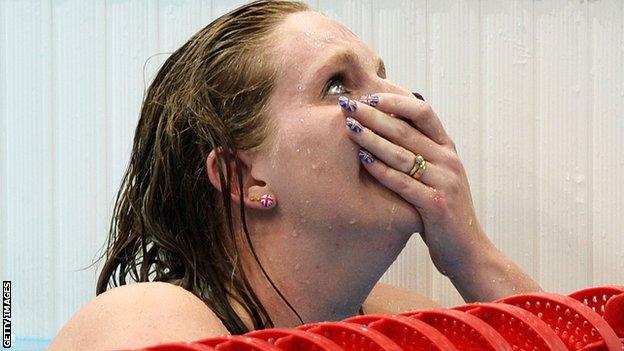 Paralympic champion Heather Frederiksen and silver medallist Louise Watkin are looking for a new club after quitting City of Salford swim team.
A breakdown in the relationship with coach John Stout, who helped the pair win eight medals in London, is believed to be behind their decision.
Issues arose during this summer's Games that were described as a "stressful" time for both parties.
Reconciliation talks took place on Monday, but they quickly soured.
"We would like to thank all involved with the club for the help and support we've been given," said the 20-year-old Watkin, who won two silver and two bronze medals in London.
"But, with our sights now set on Rio, it's time for a fresh challenge."
Stout did not want to comment but John Atkinson, British Disability Swimming's national performance director, issued a statement.
"I would like to thank John, City of Salford SC and the athletes for their fantastic results in what was a memorable summer of sport," he said.
"I look forward to continuing to work with Heather and Louise to identify their coaching needs as we begin the long journey over the next four years to the Rio Paralympic Games."
Two-time Paralympic champion Frederiksen won gold in the S8 100m backstroke this summer to emulate her achievement in Beijing.
The 26-year-old from Leigh was British open water champion before suffering a serious accident in 2004 that left her with limited use of her right arm and leg.
Frederiksen and Swedish-born Watkin, who suffers from upper limb deficiency and is missing her left hand, are understood to be training in Manchester while they consider their options for a permanent base.